Lehigh Valley hosts many historic house tours and if I could, I'd go to every one of them. I love going through old homes whether they are vacant and up for sale, or all dolled up for the holidays which was the case this past weekend as the Governor Wolf Historical Society held its Thirty-third Annual Christmas House Tour in Bath, Pa.
Our friend's house was included this year so they asked us to be volunteers on Saturday. The historical society held a private candlelight tour the night before for all the homeowners and volunteers so we didn't miss out on the fun. It was pouring rain Friday night so I was really glad they had a small school bus available to whisk us from house to house.
They even had a wonderful buffet dinner waiting for us in the Wolf Academy building upon our return.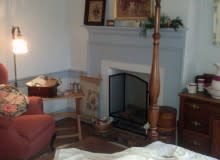 I have to say, one of my favorites on the tour was the Cruz home on Airport Road in Bath, right next to Lucky Strokes Mini-golf. Don and I did go through this house when it was for sale and noted the massive amount of restoration work it would need.
I can't believe what a transformation the new owners completed in just three years of ownership. This home is stunning!
Saturday morning I was up bright and early and ready to learn the details of my post in John and Linda's gorgeous center hall colonial. The main part of the house dates back to 1804 and the original saltbox portion with walk-in fireplace was built in the late 1700's. You could actually spend hours listening to the history of this home.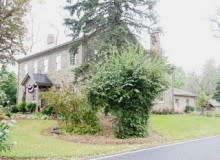 I explained to visitors that the second-floor bedrooms on each side of the staircase were once mirrored images of each other but somewhere along the line the fireplace was removed from one and replaced with a closet.
I also told the stories behind the spinning wheel and weasel in "Linda's playroom" including its ties to the nursery rhyme "Pop Goes the Weasel".
The hours flew by as hundreds of people entered the front door, donned booties on their feet and explored this home built to last the test of time. I was happy to participate in this fund-raising annual event and I'm sure it will be a part of my holiday season for many years to come.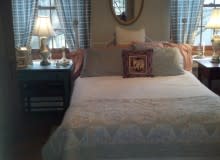 If you do this tour next year remember to visit the Craft Fair held at the Society's Wolf Academy, Ralston-McKeen House, and Monocacy School buildings the same day.
Supporting these events help preserve our rich history and culture for many generations to come and they are a lot of fun too. Maybe I'll see you at the upcoming GWHS's Antiques Show March 1st & 2nd.
What other house tours should I attend?