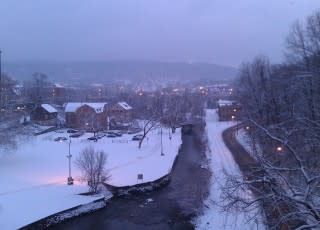 My wife and I have celebrated many memorable birthdays in Lehigh Valley.  Most of these celebrations have included dinner at one of our favorite Bethlehem restaurants including Apollo Grill, Edge Restaurant and Emeril's Chop House at the Sands Casino Resort Bethlehem.  My wife's birthday was especially special because the day featured just enough snow to create a winter wonderland.
Since the snow made driving a little challenging, the two of us decided to bundle up and walk to downtown Bethlehem for dinner.  With so many options we headed down Main Street until something caught our attention.  That something just happened to be the aroma of garlic coming from Mama Nina.
After shedding our numerous layers, the two of us were ready to enjoy a romantic dinner.  As soon as we sat down we were greeted with a plate of their fresh garlic bread.  This bread is always delicious and makes focusing on the menu a challenge.  After some debate we decided, Erin would have the Penne Alla Vodka and I would have the Pasta Al Forno.  Both of the meals were delicious and provided enough leftovers for at least 2 more meals (that's the beauty of Mama Nina).
Following dinner it was time to make the trek home.  The walk wasn't that bad because there was a light at the end of the tunnel; a Chocolate Peanut Butter Tandy Cake from Vegan Treats.  This was the perfect end to a great birthday.
Do you have any Lehigh Valley birthday traditions?