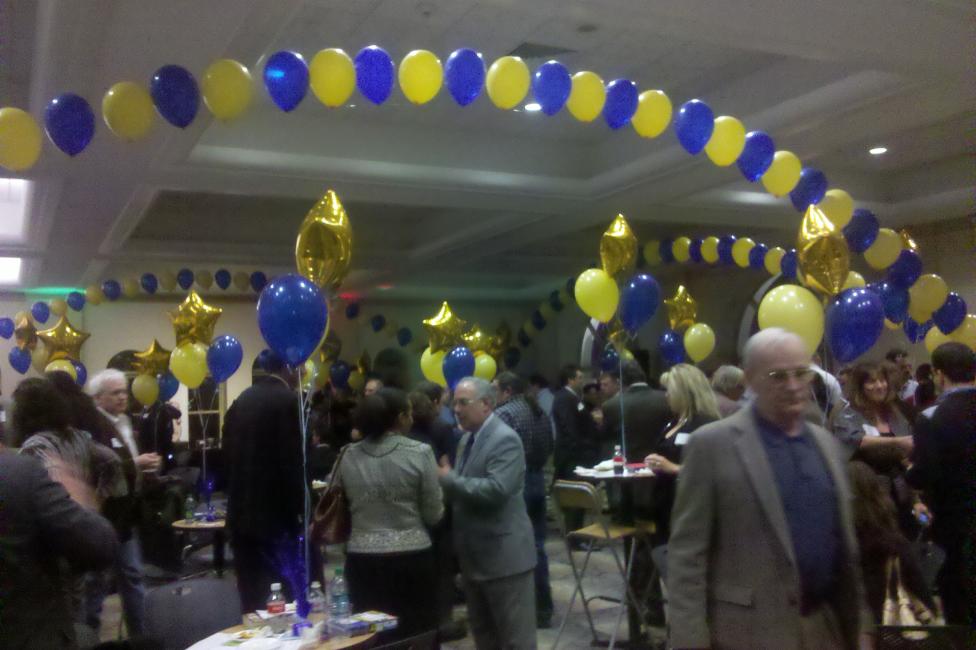 Once a year two Lehigh Valley organizations team up and hold a mixer. One has a location but is a lean non-profit…the other, no location for a party, but a workable budget. It's a perfect marriage.
Last night, a more than expected group crowded into the beautiful Rodale Room at Allentown Symphony Hall. Also hosting was Lehigh Valley Easy Pages. I would be remiss if I didn't mention that lots of other businesses also contributed to make the evening festive by sponsoring decorations, food, beer, wine, and entertainment. What a fun night!
Jim Stewart from LVEP missed his calling. Give that man a microphone and he becomes the most animated Master of Ceremonies the room has ever seen. It doesn't hurt that he was giving away a ton of prizes including $500 and $1,000 in cash! Giving clues, he had everyone frantically paging through the new 2012 edition of the Easy Pages looking for the lucky books with autographed ads.
I had every intention of making a Cameo appearance then heading to the gym, but I stayed until the end of the event. I reconnected with people I've known for years but haven't seen in a few months, and met some really cool people for the first time, like the couple who moved to the valley last summer and are just getting around to exploring their new home. I snuck them into the balcony area of the hall to show it off and explain some of its history. I told Lucy Bloise from the Symphony after the fact. What is it they say…"Better to beg forgiveness than ask permission?" She thanked me (whew) since she was manning their booth and couldn't offer tours herself.
All in all, it was one of the most fun annual mixers facilitated by the Greater Lehigh Valley Chamber of Commerce. So when you hear about it next year, RSVP that you'll attend. As for me…I guess I'll go to the gym tonight.