If you've ever been to Reading Terminal Market in Philadelphia or Quincy Market in Boston, you know how tempting the sights and smells of the food vendors are. On your next trip to Lehigh Valley, a visit to the region's newest stop for foodies is an absolute must!
Meet the Easton Public Market. Now, this isn't to be confused with the historic Easton Farmers' Market- that hasn't gone anywhere (find them in Centre Square on Saturdays, 9 a.m. - 1 p.m., May - December)! The Easton Public Market is located just down the street at an indoor location, which means you can enjoy tasty meals all year round. Here, you'll find artisanal food stands, fresh produce and fish, a demonstration kitchen, and so much more.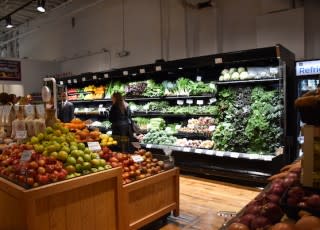 Be sure to come with an appetite as a majority of these vendors offer ready-to-eat meals that you won't be able to resist! Be sure to grab some dessert to take home!
Take a quick glimpse of some of the fantastic vendors that you'll find within the Easton Public Market.
Mister Lee's Noodles: Lee and Erin Chizmar of Bolete Restaurant, one of the area's most renowned restaurants, offer some outstanding soups inspired by traditional ramen dishes. Enjoy a bowl while seated in the front of the market at the windows- the perfect opportunity for people watching while you indulge in some noodles.
More Than Q: Whether you prefer brisket or pulled pork, you'll find a number of smokey options at this stand. And of course, don't forget all the traditional sides that go along with great barbeque. Trust us- the mac and cheese is a must!
Full of Crepe: Sweet or savory? You can't go wrong! This local favorite now has a permanent stand in the Public Market, in addition to their brick-and-mortar location on SouthSide Bethlehem, as well as their food truck.
Scratch: Offering freshly made pizzas and breads, this stand makes the perfect stop for lunch. Pull up a barstool and enjoy your meal at the counter, and be sure to order up a cold one from Shawnee Craft Brewing, available on tap right on location.
Tolino Vineyards: There's no need to stop at the liquor store on the way home to complete your next meal - grab a bottle from Tolino Vineyards right on site! If you can't make up your mind, enjoy a tasting or even a full glass as your wander throughout the market.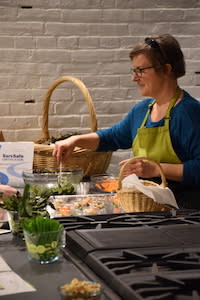 And that's just a quick snippet of the vendors- find fourteen in total within the market.
Plus, be sure to visit their demonstration kitchen where you can learn how to whip up some tasty meals of your own. Find cooking demos from local chefs, classes where you can join in the fun, or special dining events that are often paired with local wineries and breweries. Check out their full calendar of events to see what's happening here.
Find the Easton Public Market at 325 Northampton St. The market is open Wednesday - Saturday, 9 a.m. - 7 p.m. and Sunday, 9 a.m. - 3 p.m.