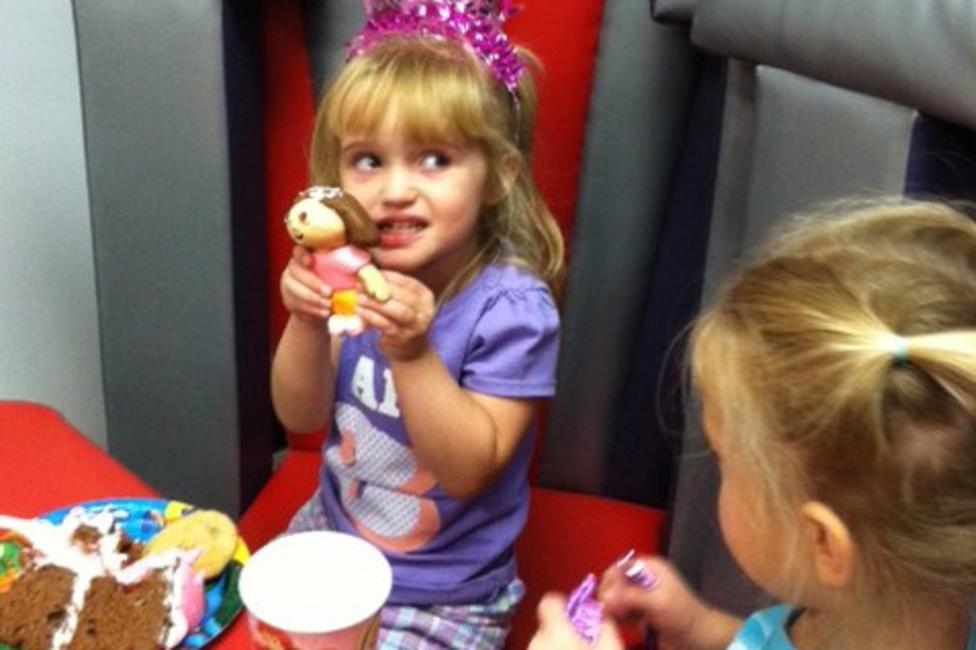 ME: "Rosie, what kind of birthday party would you like?"
ROSIE: "A Dora Bouncy Party!!!"
ME: "huh?"
I'm generally new to this birthday party thing, so I asked some other Moms at her school what Rosie meant?!? They told me the place to go in Lehigh Valley for a BOUNCY party was BOUNCE U!! The other Moms told me that BounceU totally takes the stress out of hosting a birthday party and they were right! From the moment I called until the last moment of the party, it was nothing but a positive experience.
They have lots of parties to choose from, but since my daughter and her bestie were having a combined birthday party we opted for the SPECTAC-U-LAR PRIVATE PARTY PACKAGE at BounceU's Allentown location. This was the perfect package for us because we had a lot of people to invite. After a short safety training video the kids were off and bouncing! You get 30 minutes in each of the huge rooms with different inflatables. My child loved the giant slide. She must have gone down 30 times!! Parents can bounce with the kids, but with my track record of klutziness I opted for the sidelines. After the bouncing fun was over, the party experts assigned to our group took everyone into a private party room where we enjoyed pizza, lemonade, cookies and cake.
They have decorations there, but we brought our own and had a Dora the Explorer meets the Little Mermaid theme. Both little girls were so happy, plus they get to pick a prize from the treasure chest. All in all, it takes about 2 hours. It is super organized and the entire staff is so friendly. I was very jealous of their ability to get 20 three-year-olds to line up without any fist fights. It was awesome. For your bouncing pleasure Bounce U just opened a third Lehigh Valley location at 1800 Sullivan Trail in Easton. Check out the website for upcoming party specials and open bounce times.
Don't forget your socks!