Allentown has long been a city rich in culture, tradition, and history. Founded in 1762 by William Allen, the city is known for its award-winning parks system, the hiding of the Liberty Bell from the British from 1777 to 1778, and having the oldest civilian concert band in the country, among several other accomplishments.
With a town so steeped in traditions, dealing with change can sometimes be a challenge for the people who live and work in the community, and an exciting new endeavor for others. These are exactly the times Allentown is faced with today ... an ever-changing landscape that will create new history.
[caption id="attachment_41162" align="alignleft" width="300"]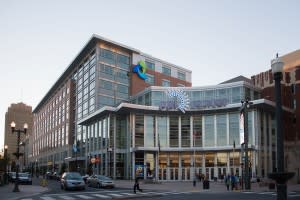 PPL Center in Allentown[/caption]
Change of an entire downtown takes more than vision. Meet City Center Investment Corporation (CCIC), the development company poised to make it happen. Formed in 2011, this award-winning team of individuals is on a mission to change the perceptions of this city and return it to its former heyday, tenfold.
For instance, when you look at the brand-new PPL Center in downtown Allentown, you may know that it is the home of the Lehigh Valley Phantoms, the AHL affiliate of the NHL Philadelphia Flyers. But, did you know that it is actually part of a much larger rebirth?
J.B. Reilly is the Founder and President of CCIC. His visionary skills are to be highly commended. We had the chance to ask him a few questions about the overall transformation project and a little bit about his personal life.
Here are his responses.
Discover Lehigh Valley: What is your connection to Lehigh Valley?
[caption id="attachment_42946" align="alignright" width="300"]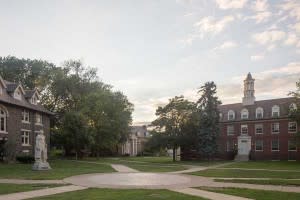 Lafayette College in Easton[/caption]
J.B. Reilly: I was born and raised here. I'm a graduate of Salisbury High School in Allentown and Lafayette College in Easton, and I live in Lehigh Valley today.
DLV: There are multiple phases to this project. When will they be totally completed? JB: The short answer is: City Center will continue to develop Class A office space, residences, and retail and restaurants downtown to meet the demand, which is currently high.
DLV: One City Center is home to Lehigh Valley Health Network's Sports Medicine & Fitness Center. The facility is open to the public for use as a gym and offers the latest in technologies. It also serves as a physical therapy location for sports-related issues. JB: Why was it important to include a health-oriented facility attached to PPL Center? Does having a health and fitness center say something about the overall aim of the City Center project?
Absolutely. Healthy communities should have state-of-the-art healthcare facilities like LVHN's. And the tie-in to the Phantoms is obvious – LVHN is the official healthcare provider for the team. Beyond that, LVHN is the region's top employer and a highly respected organization. Its early commitment to the revitalization of downtown Allentown was a major coup for the project.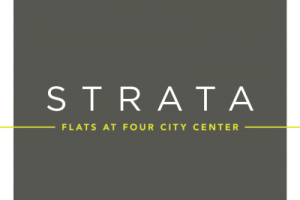 DLV: STRATA Flats at Four City Center is under construction at the present time. These are going to be some of the finest luxury living apartments located directly across from PPL Center. The building will offer parking, concierge service, 24/7monitored surveillance and controlled access, as well as a fitness center and yoga room. It will have Wi-Fi, a rooftop party deck and lounge, and it will be pet friendly. How does having new full-time residents living in Allentown meet with the aim of the City Center projects? Do you feel that downtown Allentown will become a sought after place to live, and why? JB: Three years ago when we launched the development City Center Lehigh Valley, we chose the tagline "Live. Work. Play. "We knew that in order to help revitalize the downtown, we needed to create new opportunities for each of those pieces of city life. Since then, we've built two office towers that are now fully occupied with a third on the way. More recently, we've created opportunities for play, with The Hamilton Kitchen & Bar, Roar Social House and Tony Luke's. And now we're introducing STRATA to the neighborhood and creating a new opportunity for people to live downtown. The project has been very well received – people are excited to live in a stylish building in the center of the excitement downtown.
[caption id="attachment_42950" align="alignright" width="200"]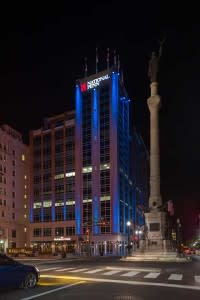 Two City Center in Allentown[/caption]
DLV: Two City Center is located across the street from the arena. This 11-story building offers The Hamilton Kitchen & Bar and office space with tenants that include National Penn Bancshares' headquarters, Buckno Lisicky & Company, Cenduit, Duggan & Marcon, and City Center Investment. Is there still space available for lease within the building? JB: Two City Center is fully leased, as is One City Center. There is space available in Three City Center, and we will continue to build Class A office space to meet the demand.
DLV: Coming in spring of 2015 is Three City Center which will be a 211,000 sq. ft., seven-story office/retail space located not far from the arena. Why should companies be interested in locating their business in downtown Allentown? What are the advantages? JB: Our current office tenants tell us they love being downtown. Everyone is out exploring the streets at lunchtime and after work. Not only are they enjoying the restaurants and shopping, they are conducting business during chance encounters on the sidewalks, which doesn't happen as often in suburban office parks. In addition to that, downtown Allentown is easily accessible by major roadways and within driving distance to several larger metropolitan areas.
DLV: The Renaissance® Allentown Hotel is expected to open in January 2015 with direct access to the arena. Part of this 170-room hotel, with over 10,000 square feet of event space, has sections of the historic Dime Bank built into its architecture. Can you tell us what the vibe of this building is going to be like? JB: Renaissance® Hotels is a high-end lifestyle brand within the Marriott International portfolio. The Renaissance® Allentown Hotel is the newest and only full-service Marriott within 60miles. It will offer the amenities and experiences of a luxury urban hotel without sacrificing the neighborhood feel that makes Allentown so charming. The hotel will feature 170 guest rooms with upscale and trendy motifs and a fabulous restaurant, The Dime, above the entrance to PPL Center.
[caption id="attachment_42952" align="alignleft" width="300"]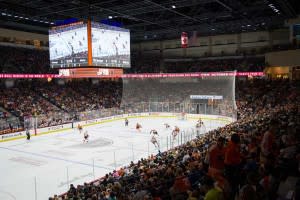 Hockey at PPL Center[/caption]
DLV: The PPL Center appears to be the hub of the city's transformation. The arena is home to the Lehigh Valley Phantoms, who are the AHL affiliate of the NHL Philadelphia Flyers. The arena will be used for many other things besides hockey though. Can you tell us what else the public can look forward to? JB: PPL Center will offer something for everyone. It is planning to host more than 140 events per year, including concerts, trade shows, youth sports, high school and collegiate events, conferences, and graduations. PPL Center will also offer family programs like Disney on Ice, Cirque du Soleil, and the Harlem Globetrotters. The arena seats more than 8,500people for hockey and more than 10,000 for concerts and other events.
DLV: There are all kinds of new restaurants popping up around town such as Chickie's & Pete's, Tim Hortons Café, Crust, Roar Social House, and more. Besides event nights, do you see people coming into town for dining and shopping purposes?
[caption id="attachment_42953" align="alignright" width="200"]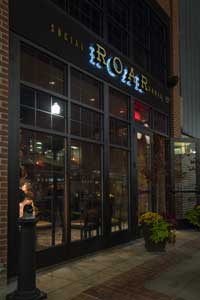 Roar Social House[/caption]
JB: Yes. In fact, they already are. Our new restaurants Roar Social House and The Hamilton Kitchen & Bar are both doing phenomenally well on event nights and non-event nights. We are looking to launch more restaurants downtown for every taste and budget.
DLV: One of the biggest concerns that has been voiced since the announcement of this development has been the potential for parking issues. How has this been addressed? Have there been any issues so far? JB: There are around 5,000 public and private parking spots within three blocks of PPL Center as well as a downtown-wide valet parking program. Some people were concerned, but it's turned out to be a non-issue. I think people have been pleasantly surprised by how easy it is to get in and out of the downtown and park, even on PPL Center event nights.
Today's Allentown is much different than its important past. If you haven't visited lately, you simply must get out and explore it for yourself. For more information on the City Center happenings, visit CityCenterLehighValley.com. Or, for information about Allentown in general, check out AllentownPA.gov.