Nine is a magical number in baseball... Nine innings, nine players, it's a solid baseball number.
And here we are at the end of another Lehigh Valley IronPigs season.
What did we learn? We learned these nine things.
1. Lehigh Valley loves Richie T. Rich Thompson will always be an IronPigs Legend. He played his last game for the 'Pigs back in 2012, but he's still beloved. With 34.4% of the fan vote going to him, edging out Andy Tracy for the fan vote T-Shirt jersey Giveaway.
And why not? He's still the current franchise leader in games played (469), hits (452), doubles (83), triples (26), runs (244) and stolen bases (134).
2. Coca-Cola Park really is Bacon, USA. Bacon on a Stick, 3 lil Pigs Sandwich, Porker Fries, Chocolate-Covered Bacon, bacon, bacon, bacon...
3. Lots of Dogs in the House. New for 2015 was the highly successful "Pawparazzi" Dog Club, which will undoubtedly continue in 2016. Because even if your dog isn't a fan of baseball... They'll be sure to be a fan of bacon.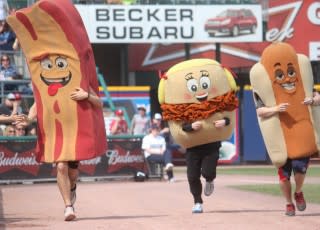 4. Best Mascots in Baseball. From FeRROUS and FeFe to the Pork Racers; Chris P. Bacon, Barbie Q., Diggity, and Hambone Coca-Cola Park is alive with some of the greatest mascot personalities in all of baseball, period.
5. The Future is Bright. Down on the farm, the Reading Fightin Phils won the Eastern League East with the best record in that entire league. Off-season trades aside, as the Philadelphia Phillies work their farm system, some bright talented stars should be passing through or stopping in Lehigh Valley very soon.
6. 613,815 Fans packed Coca-Cola Park this year. The IronPigs have eclipsed the 600,000 fans mark annually since their inaugural 2008 season, with an all-time average of 9,009 fans per game.
7. Not a Bad Seat in the House. The Bacon Strip, Hot Corner, Pig Pen, Red Robin Tiki Terrace & Oasis, Capital BlueCross Lawn, Bud Light Trough, Field Level Seats, PPL Picnic Patio, Coordinated Health Club Level Seats, BSI Dugout Suites, and the PenTeleData Party Porches... No matter where you sit or where you are, you can see the action! Remember it's an open concourse, you can see the action on the field while you walk to get your bacon.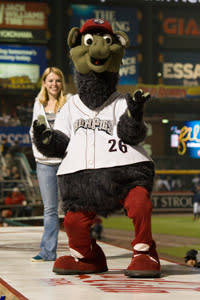 8. It's as Family Friendly as ever. Mascots, ice cream, hot dogs, soda, and baseball are great. But when you add in giveaways, like shirts and other things that get thrown into the crowd, plus all the fun activities to watch in between innings... As family night's go, the IronPigs is a sure win.
9. Next season the 5 Millionth Fan will Attend an IronPigs Game. With the current draw at the end of the 2015 season being 4,982,392 fans, it shouldn't be long to hit 5,000,000. Let's do the math, to get to the 5 million fan mark the IronPigs only need to draw 17,608 more fans. At an average of over 9,000 fans a game, some lucky fan going to the second home game of the 2016 season on April 15th, 2016 against the Pawtucket Red Sox will be fan number 5,000,000.
Will it be you?