The holiday season is upon us. Driving around Lehigh Valley has sights of Christmas trees on car roofs, lights being strung on the outside of houses, and candles glowing in the windows. Soon the house will be smelling of pine and of course, my favorite holiday treat, cookies!
There's the classics; chocolate chip, peanut butter, and sugar cookies, but, that is so boring. I wanted to try some new recipes this holiday season, so I reached out to some of the great chefs and restaurants in Lehigh Valley to find out what kind of cookies they make for the holidays. I was able to make most of these recipes and am sharing them with you. I'm even throwing in a bonus for you; one of my favorite recipes, Lace Cookies.
Glasbern owner, Lura and her family, serve amazing Butterball Cookies each year. Glasbern never ceases to amaze me, and this cookie followed suit. A winner in my book for sure.
Melt and Torre, Paxos Restuarant's Corporate Chef Christopher Heath, shares his family recipes that his mother makes every year for the holidays. The first is a Hundred Year Old Cookie which reminded me a bit of Sand Tarts. His second recipe is a Mexican Wedding Cookie which took on the traditional snowball-type cookie.
Head Pastry Chef Melanie Stracko of The Blakeslee Inn & Restaurants sent her Holiday Almond Snowballs. These are her go-to holiday cookie because they are so easy to whip up, making them a perfect last minute hostess gift or a quick treat for unexpected guests.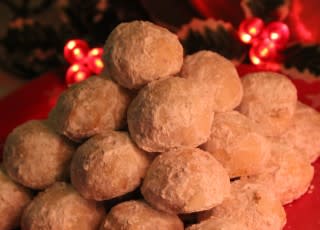 Bethlehem's Christmas City's Apollo Grill's Pastry Chef Meghan Singer delighted me with her version of Snow Balls. These double-dipped in powdered sugar confections are perfect with a cup of hot tea.
One of the recipes I didn't get to make was McCarthy's Red Stag Pub and Whiskey Bar Pastry Chef, Kaitie Michael's Shortbread Cookies. I had some trouble finding the high gluten flour this recipe calls for, but I'm sure it's probably hiding at Wegman's!
Youell's Oyster House Chef Tim Plante is all about the Cinnamon Shortbread Cookies. Another recipe I didn't get to try, but they sound scrumptious!
Lastly, 187 Rue Principale Pastry Chef, makes this Snowball recipe each year with his grandmother. Another that I didn't get to try, but I'm sure they're delightful.
I'm guessing by the popularity of the submissions, our locals love Snowball Cookies! Do you have a favorite cookie to make during the holiday season?