The Great Allentown Comic Con returns to Merchants Square Mall this weekend November 15 and 16.
The show runs from 10 a.m. to 7 p.m. on Saturday and 10 a.m. to 5 p.m. on Sunday.
For the first time attendee or a con regular, here is a list of seven things to do at the con this weekend.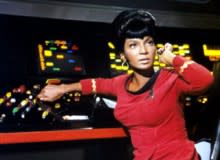 1. Get your Trek on with Lt. Uhura. Nichelle Nichols, best known as Lieutenant Nyota Uhura on Star Trek the original series will be on hand.
In addition to Star Trek, she's recorded albums, written a memoir and science fiction and has even worked to recruit women and minorities to NASA. Star Trek fan or not, meeting Nichelle is an opportunity that is not to be missed. (It's only logical.)
2. Talk to Kim Possible. Yes, Christy Romano the voice of Disney's Kim Possible will be on hand. You can also ask her about her career, which spans from other Disney works to her music career and voiceover work on video games such as Marvel characters, Kingdom Hearts and Final Fantasy.
3. It's Meeting Morphin' Time! Catherine Sutherland, the Pink Ranger, and David Fielding, (Zordon) will both be on hand. Whether you know them from their Mighty Morphin Power Ranger roles or the many other roles they've had, here's your chance to meet them.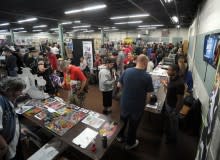 4. Smile for the Camera. Take your picture with some great cosplay, because with groups like The Finest, Heroes Alliance and the Mandalorian Mercs, you're guaranteed to see some great cosplay, and that doesn't count those attendees that will show up in costume as well. Be kind, ask nicely and you're sure to be posing with them. (There is usually a great Joker hanging around the Great Allentown Comic Con.)
5. Talk to the Artists. Seriously, talk to the artists. They are great people and some of them don't do this for a living. Some of them do, but the others are just doing what they love and if they aren't creating art, they really enjoy talking about it. So, don't be shy. Strike up a conversation, you may learn something, or you may make a new friend.
6. Buy Something New. Comic Cons are not only about comics. Yes, that is the basis, but these days it's more of a pop culture gathering. So, make sure to buy something you wouldn't normally buy. Buy some art, an obscure movie, a comic book you've never read. If you buy something from the artists, you'll be able to have it signed and sometimes, they'll even do something custom for you that will be ready before you leave the show.
7. All are welcome. Yes, even if you've only enjoyed the Marvel movies and have never cracked a comic book, you are welcome. No one should be afraid to attend and it's a great time.
Single Day passes for Saturday are $20 at the door, $15 for Sunday, while two-day weekend passes are $25 at the door. For more information visit allentowncomiccon.com.
Lehigh Valley may be home to more than one comic con, but the November Great Allentown Comic Con is usually the biggest of them all. Don't miss out!