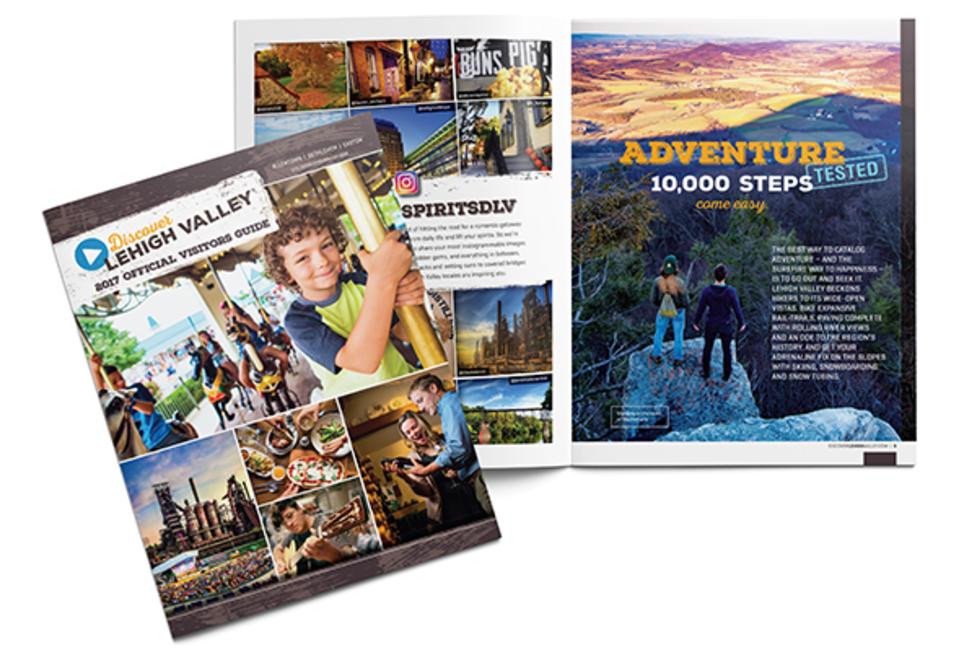 Hot off the presses: the 2017 Discover Lehigh Valley Official Visitors Guide is here! This year, the publication features 72 pages of helpful planning tips including local business listings, travel itineraries, coupons, and so much more.
New for 2017, we've expanded the editorial content within the Official Visitors Guide. That means you'll see more content to help you plan your next getaway to Lehigh Valley, including our favorite places for weekend brunch, how to see the region in 10,000 steps, and more. You'll find profiles of the three major cities (Allentown, Bethlehem and Easton), plus tips from locals on the best hidden gems to explore while you're in town. In this edition, we've also highlighted some of the nearby neighborhoods that take regional charm above and beyond including Macungie, Northampton, Hellertown, Catasauqua, Nazareth, and more.
Additional editorial features include family-friendly activities and attractions, holidays in Lehigh Valley, must-see stops for foodies, outdoor adventures, arts & culture, and so much more. Tucked throughout the pages, you'll find beautiful imagery of Lehigh Valley, captured by local photographers. (Be sure to share your photos on social media using our hashtag - #LiftYourSpiritsDLV - for a chance to be featured on our accounts!)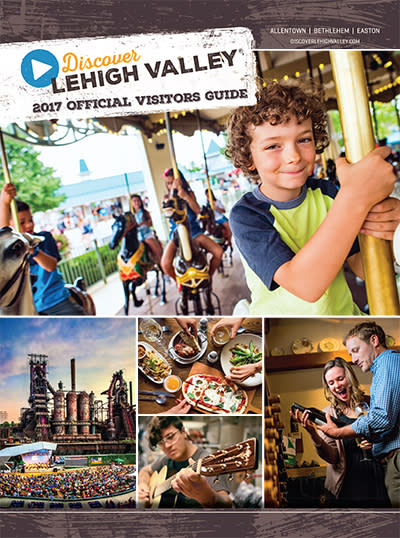 While you're planning your next trip, be sure to consult the listing pages of the Official Visitors Guide, showcasing places to play, dine, shop, and more. Consult the maps (located on pages 61 - 64) to find the best route for your journey, plus locations of local wineries, covered bridges, and the famous Delaware and Lehigh National Heritage Corridor.
And, don't miss out on available money-saving coupons! This year, you'll find deals of all shapes and sizes including restaurants, hotels, museums and more. Additional deals can be found on our website. Additional travel packages & deals are available throughout the year, so be sure to check back often!
To be sure you don't miss out on your free copy, call 1-800-MEET-HERE or request a free brochure form online here. They're also at more than 70 locations throughout Lehigh Valley including most hotels and the Lehigh Valley International Airport. Or, you can pick up a copy at one of the visitor centers:
Discover Lehigh Valley Office – 840 Hamilton St., Allentown
Bethlehem Visitor Center – SteelStacks, 711 E. First St., Bethlehem
Historic Bethlehem Visitor Center, 505 Main St., Bethlehem
Keystone Welcome Center at Lehigh Valley – Delaware River Bridge Toll Plaza, 1400 Cedarville Rd., Easton
Lehigh Valley Visitor Center -Sigal Museum, 342 Northampton St., Easton
Nazareth Area Visitor Center – Nazareth Area Chamber of Commerce, 201 N. Main St., Nazareth
Lehigh Valley Visitor Center – America On Wheels, 5 N. Front St., Allentown
Request your copy of the 2017 Discover Lehigh Valley Official Visitors Guide.