And then there were 16.
All of this year's top seeds have moved on; Darius Rucker, Reba, Jerry Seinfeld and Duran Duran.
But we're still left with some potentially hard choices for annual 'Fest goers.
The Amish Outlaws vs. Aw Shucks seems like the most intriguing matchup, but don't count out Take a Taco vs. The Flaming Lips, either.
And there's the matter of our defending champion, Sarah Ayers Band getting upset by Bethlehem Dairy Store. Will Bethlehem Dairy Store be able to take that momentum and topple ZZ Top?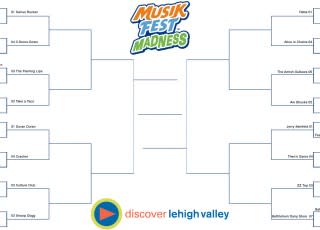 While it's anyones guess, it is your vote! Who will you be voting for?
Our round schedule will be as follows:
Round of 32: July 20 - 23 Round of 16: July 24 - 27 Quarter Finals: July 28 - 30 Semi Finals: July 31 - August 2 Finals: August 3 - 4