From 32 to 16 to 8... We find this year's Musikfest Madness has only a quarter of it's participants remaining.
Of the eight that remain, five are Sands Steel Stage acts, while three Aw Shucks, Take a Taco, and Bethlehem Dairy Store are local food favorites.
The most intriguing matchup from the Sweet Sixteen was also the closest, with Aw Shucks sneaking by The Amish Outlaws by just one vote.
While on the other side of the bracket, Take a Taco received the most votes in the round with their domination of The Flaming Lips.
Will Take a Taco continue their domination?  Will Culture Club outlast Duran Duran? Ice Cream or Comedy? Rock or Roasted Corn?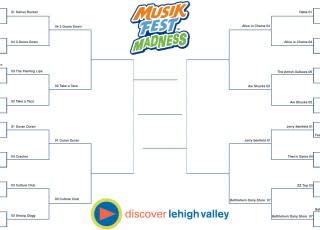 Who will be moving on to the Final Four?
Our round schedule will be as follows:
Round of 32: July 20 - 23 Round of 16: July 24 - 27 Quarter Finals: July 28 - 30 Semi Finals: July 31 - August 2 Finals: August 3 - 4