And then there were two. Both #2 seeds, and local favorites.
Take a Taco annihilated Duran Duran, who are looking to "Blame the Machines."
Meanwhile, Aw Shucks edged out Bethlehem Dairy Store in a very close matchup.
There isn't much left to say. These are not just Musikfest staples, they are traditions.
Roasted corn or tacos?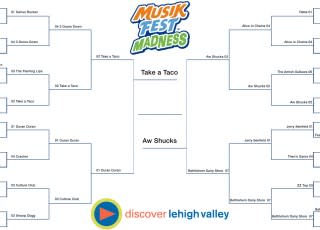 The decision is yours. Who will win it all?
Our round schedule will be as follows:
Round of 32: July 20 – 23 Round of 16: July 24 – 27 Quarter Finals: July 28 – 30 Semi Finals: July 31 – August 2 Finals: August 3 – 4