After four rounds each cutting the field in half, we are down to four. And only two can move on.
Of the eight that made it to this point, there were two #1 seeds, one #2 seed, two #3 seeds, two #4 seeds and one #7 seed.
So, did any of the lower seeds move on? Is there a new Cinderella? Let's find out.
Play
The Lehigh Valley Zoo is once again dancing into the final four, having defeated State Theatre Center for the Arts in a #1 v. #2 battle that was close as expected.
Events
With the top two seeds out of the way it was #4 Musikfest losing out to fellow Bethlehem festival #3 Celtic Classic Highland Games & Festival. This is the first final four for Celtic Classic
Semi-Final #1 Play v. Events
So the first matchup will be #1 Lehigh Valley Zoo v. #3 Celtic Classic Highland Games & Festival.
Stay
Having finally moved passed the round of 8 #4 Historic Hotel Bethlehem kept their momentum strong to move past an equally surging #7 Glasbern, Est. 1797. This marks Historic Hotel Bethlehem's first final four.
[caption id="attachment_21960" align="alignright" width="320"]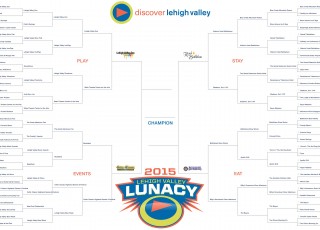 2015 Lehigh Valley Lunacy: Final Four[/caption]
Eat
#1 Bethlehem Brew Works has done well in the shoes of their counterpart, last year's Eat Champion, Allentown Brew Works, and is going to match that feat this year by moving past #3 Billy's Downtown Diner Allentown.
Semi-Final #2 Stay v. Eat
The second matchup will be #1 Bethlehem Brew Works v. #4 Historic Hotel Bethlehem. Let the Battle for Bethlehem begin!
It is now time to vote on the final four to determine who will make it to the championship round.
The remaining round schedules are as follows:
Semi Finals from March 23 to 25
Finals from March 26 to 29
[gravityform id="31" name="2015 Lehigh Valley Lunacy - Final Four" title="false" description="false"]