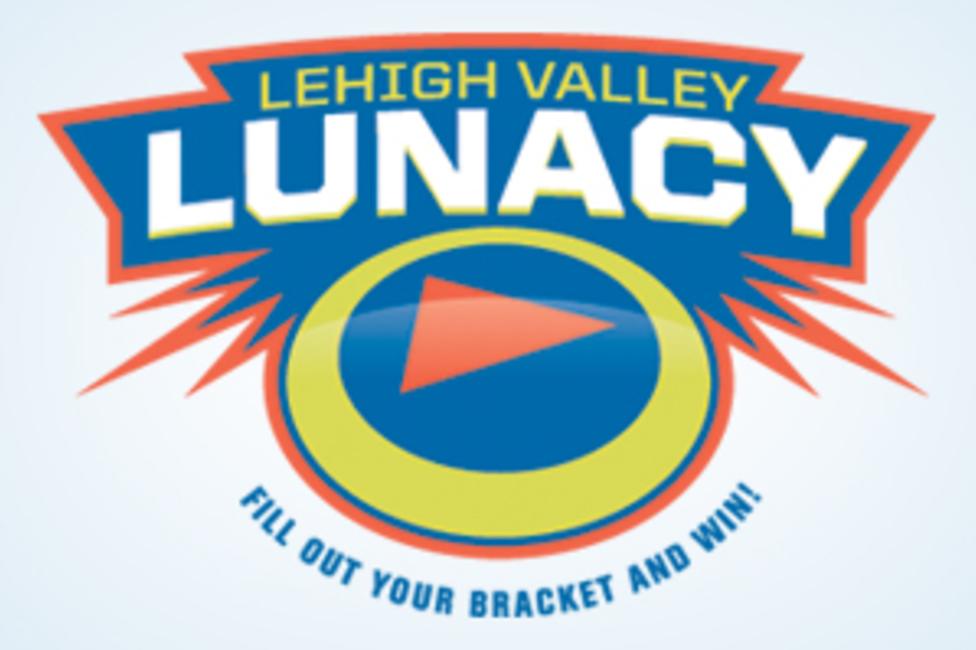 We're down to the Elite Eight,  there are plenty of top seeds left but only one underdog remains dancing in Lehigh Valley Lunacy, which began March 1st.
As we get down to the end of the tournament, voting for the rounds won't last as long, so spread the word!
Here's the Sweet Sixteen Recap:
Play:
#9 Lehigh Valley Zoo responded after its upset of #1 Dorney Park to move past #13 America on Wheels whose clock struck midnight to end its Cinderella run.
In a knock down drag out, back and forth affair #2 Lehigh Valley IronPigs survived #3 The Crayola Experience.
With Play coming down to a match up of #2 Lehigh Valley IronPigs v. #9 Lehigh Valley Zoo, it's a region completely up for grabs!
Stay:
#1 Bear Creek continued it's dominant run through bracket by moving past the only remaining Inn or B & B #5 Sayre Mansion.
And dark horse #3 Historic Hotel Bethlehem came up with a last second heave at the buzzer to beat #2 Sands Casino in the Battle of Bethlehem Hotels.
The Stay all comes down to #1 Bear Creek and #3 Historic Hotel Bethlehem. Just like Play, this region could go to either side!
Eat:
#9 Sette Luna's magical run is finished as they ran into a really hot #4 Allentown Brew Works fresh off their victory of #12 Tilted Kilt, with no signs of slowing down.
#3 Yocco's bounces back from their close call with #11 Dunderbak's to move on past #7 Apollo Grill.
Eat sets up with a very interesting match up, #3 Yocco's "The Hot Dog King" v. #4 Allentown Brew Works. Will the "King" prevail or will it be a Hop Explosion to the Final Four?
Events:
Powerhouse #1 Musikfest fresh off it's victory in the Battle of ArtsQuest moves on past #5 Das Awkscht Fescht.
#3 Celtic Classic was unable to make it an all Bethlehem affair in the Events Final as the battle of Allentown Festivals winner #2 The Great Allentown Fair will be moving on.
Events is the only match up this round that is #1 v. #2. But this will be one for the ages as it puts Bethlehem's premier festival #1 Musikfest v. Allentown's premier fair, #2 The Great Allentown Fair. It's Allentown v. Bethlehem or Bethlehem v. Allentown, either way, this one will be a match up to keep and eye on.
Remember winners will be chosen by public vote. Vote as often as you'd like, remember the more you vote, the better your chances of winning. This time around you must vote for each match-up.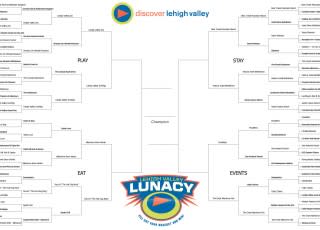 Voting Dates for each round and prize. (At the end of each round we'll give one voter a gift.)
Elite 8: March 18 – 22 (Two passes for Pocono Whitewater) Final 4: March 23 – 27 (Four passes for Paintball at Skirmish USA) Championship: March 28 – April 1 (Overnight stay at the Holiday Inn Center City Allentown, including breakfast for two and parking.)