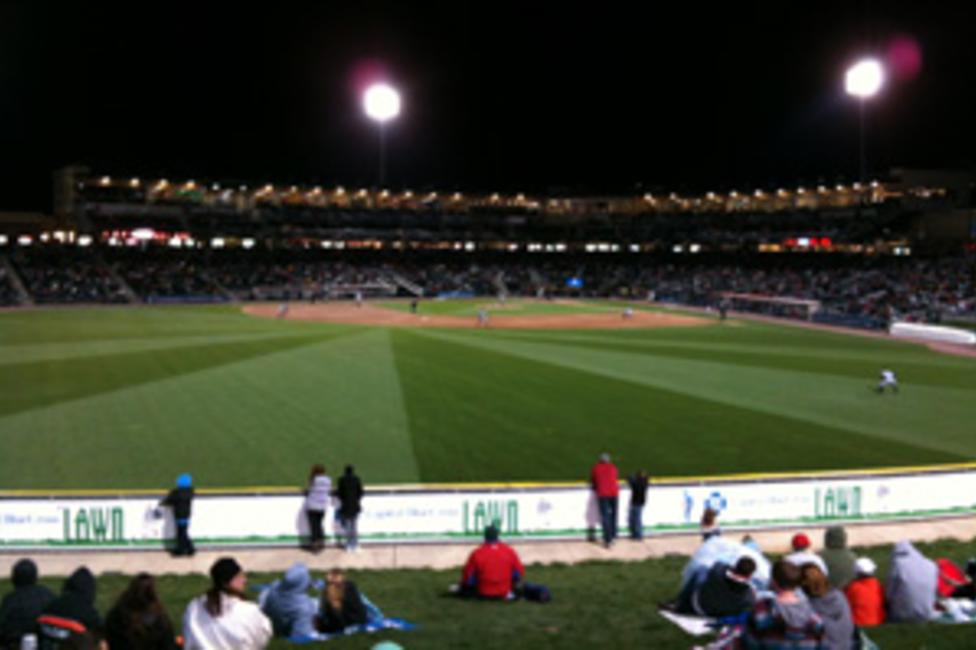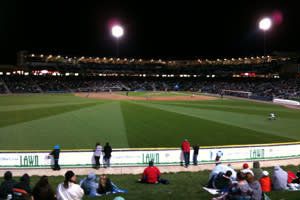 Last week, I had a Lehigh Valley baseball lover's dream week. I was at our beloved Coca-Cola Park four days last week. I don't think weeks get any better than that (at least not for a baseball fan). Oh, and did I mention that the IronPigs are 2-0 on the season, very much the same start I had in attending games to start last season.
First was Media Day. Obviously, I got to meet some of the players, both returning like Erik Kratz, Michael Schwimmer & Rich Thompson and a newcomer to Lehigh Valley this year, pitcher Scott Elarton, who should give our talented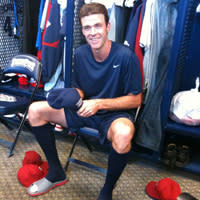 pitching staff a veteran presence. I also had the privilege to meet the Hall of Famer himself, Manager Ryne Sandberg (I even shook his hand). Don't take it for granted that we have a Hall of Famer as skipper of our club, it's not a common occurrence, and given the opportunity you should try to meet him, too.
Wednesday night was the Red Carpet Premier of PBS 39's IronPigs documentary, which they filmed during the magical 2011 season. The documentary, named "IronPigs: Fan-tastic," shows the pride and love that we have for our IronPigs, win or lose.  This area, although very close to major league markets and other minor league markets, is proud to have its very own team and identity. For those of you who are interested, it airs tonight at 9:00 pm on PBS 39, or you can also make a donation to PBS 39 and receive the DVD as a gift.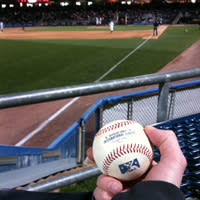 Thursday was opening day. I made sure to get to the park early. I was 12th in line at one of the gates and had a great spot to listen to the Happy Hour guys, Tom Fallon and Matt Markus, do their radio show from right outside the ballpark, which was also right in front of my spot in line. Then the bubbles started flying, and not too long after I saw General Manager Kurt Landes give the signal to open the gates and a cheer went up from everyone in line. That night they gave away a 5th Anniversary Commemorative Canvas, but that wasn't even the best thing I took home. I got my hands on a foul ball! But even that wasn't the highlight of my night. Starting pitcher Tyler Cloyd threw 6 perfect innings, leading the way for three relievers to nail down the first combined one-hitter in franchise history. And just like in Miami the night before, the no-no was broken up in the 7th. Pigs Fly, Pigs Fly, Pigs Fly! 1 - 0 on the season and I got my very first "Victory Pig" in game 1 of the 2012 season, after not getting one in all of the previous 4 seasons. It was a good night all around.
How could it get any better? On Friday I was back at the park, because that's where baseball fans belong. I had a feeling this one would be a slug-fest compared to Opening Night, and it was. The IronPigs just wouldn't let the game get away from them, and after regaining the lead with 3 runs in the bottom of the sixth, 9-hole batter DH John Suomi hit a Home-Run for a little add on insurance and that proved to be the difference in a 6-5 IronPigs win. Pigs swept the 2-game series to open 2-0 on the 2012 Season. Pigs Fly, Pigs Fly, Pigs Fly!
The IronPigs split their double-header in Saturday with the Pawtucket Red Sox, taking them to 3-1 on the young season.
Lehigh Valley is full of passion and we love our baseball. So, whether your a fan of the 3-0 Mets, 0-3 Yankees, 1-2 Phillies, 0-3 Red Sox, or 3-0 Orioles, you can always root for your 3-1 Lehigh Valley IronPigs!