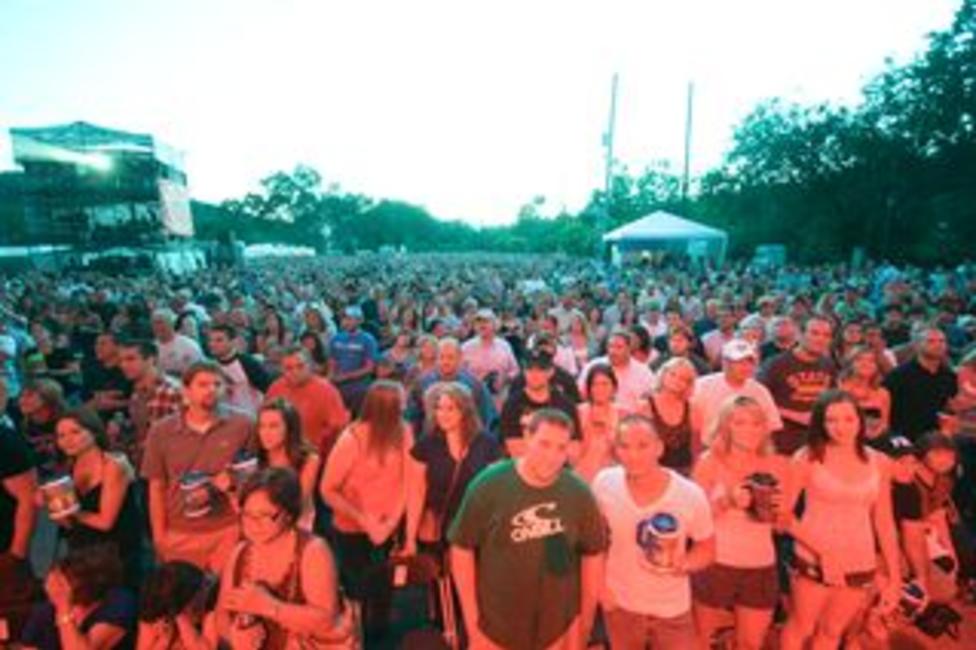 Last year was the first time I went to Musikfest in over 10 years and I had a pretty good time. Sunday night, I returned to the annual Lehigh Valley event for some of that tasty food (Abe and I ate $32 worth of food between the two of us, the highlight being the Aw Shucks corn) and for my first ever Musikfest concert at the Sands RiverPlace stage to see Sublime With Rome.
The RiverPlace stage is located on Sand Island at the southern end of Musikfest. Apparently, because of being surrounded by water, it can get a bit buggy there, but Sunday night it was cool and drizzling without a bug in sight. I've heard some people complain about how muddy this stage can get, but honestly, since it was raining for most of the day, most of Musikfest was a tad muddy; it wasn't like Woodstock '94 or anything, people!
We had seats in the VIP section, which are the rows closest to the stage. For $42 a pop, that was definitely a deal! Directly behind the VIP section is the Reserved section ($37), followed by the Lawn section (only $20). Like VIP, Reserved had seating and was surrounded by a fence that was well-guarded by ArtsQuest ushers (who I'd like to applaud right here and now for how tactfully they dealt with the swarms of intoxicated patrons ... I could not do that job). The Lawn was general admission, which means stand where you can find a place and if you want to sit you're out of luck unless you didn't mind sitting on the ground. Not a bad thing. I'm just sayin...
I've been to lots of concerts over the past 20 years, indoors and outdoors, and I have to say that the sound at this show was fantastic! At our seats 20 rows from the stage, I didn't leave the show with ringing in my ears but it was loud enough to feel the deep bass lines that make Sublime With Rome's songs so distinct.
What are your thoughts on Musikfest's RiverPlace stage?
Photo credit: Glenn Koehler