Oh Christmas Tree, Oh Christmas Tree. Oh 17 Christmas Trees? That is exactly what you'll find in the lobby of the Comfort Suites in Bethlehem, Pa.
That's right. The South Bethlehem Historical Society takes control of the hotel's lobby each year since 1992 and decorates 17 trees, each done as authentic as possible, from different countries.
It is absolutely stunning to see the different styles and items that are used around the world. Each tree has a poster that sits in front of it, describing what Christmas traditions are like in each country. There is also a map for those of us that are geographically challenged. There's no charge to view the artificial trees. Donations are accepted on site and are used to help keep the trees looking their best with lights and decorations.
Here's a sneak peek: The Moravian Christmas Tree Christmas was first celebrated in the United States in 1747. Bethlehem's Moravian community gathered around a pyramid artificial tree that was decorated with candles. The Moravian community in Bethlehem is noted as being the first documented use of Christmas "pyramid" trees in America.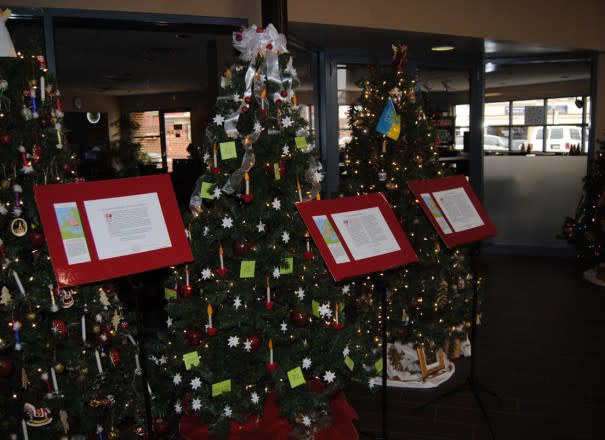 The Ukrainian Christmas Tree This one is special to me as it is part of my heritage. I love that they use Pysanka eggs on the tree!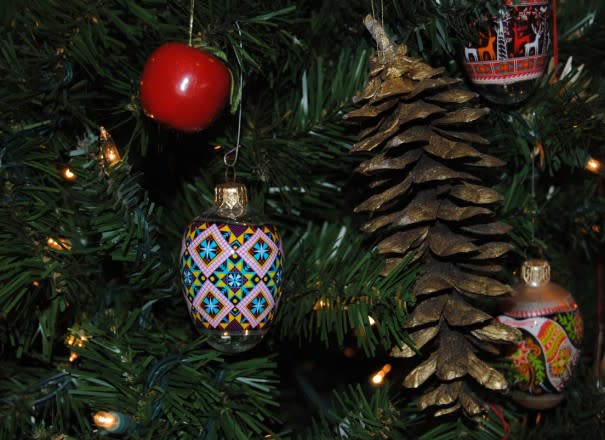 The Latino Christmas Tree On Christmas Eve at midnight, the celebration of the birth of Christ Child takes place, commonly known as "Misa de Gallo" or the Rooster Mass. On Christmas Day (Navidad), December 25, Christ's birth was celebrated by food, music, and gifts.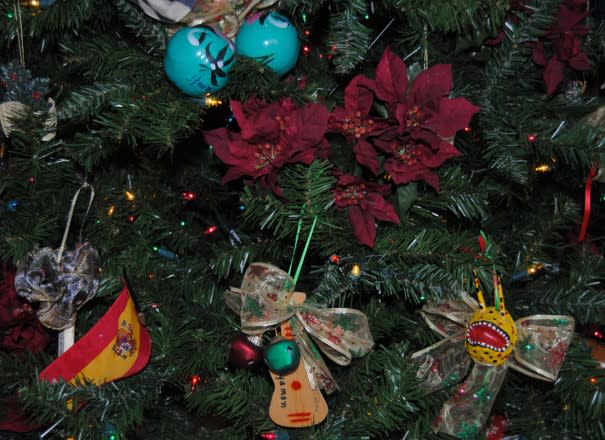 The African American Christmas Tree Pecan, walnuts and pinecones adorn these trees. Christmas Day was celebrated with "blessings" under the tree, most likely precious fruits including oranges and apples. A big family gathering included a meal of "thanks" that is served midday.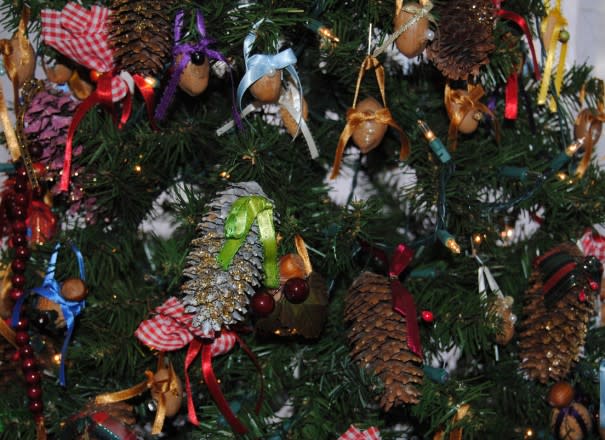 Ireland's Christmas Tree Mistletoe and small mangers were often the scene in the Irish home. They followed a strict Advent period of four weeks leading up to the fourth Sunday of Advent, including no meat eaten on Christmas Eve.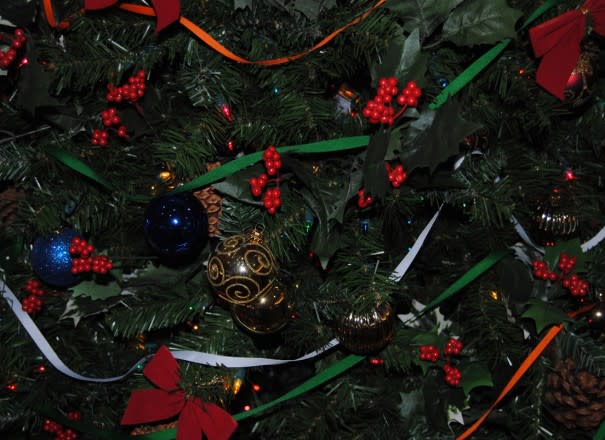 The German Christmas Tree And, probably one of my favorite toppers is from Germany. They actually hide a pickle in the tree. The child that finds it first on Christmas Day is awarded an extra gift for being so observant.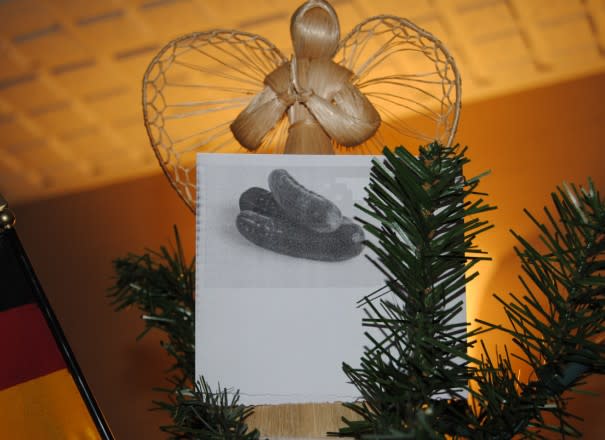 What are your family traditions? Do you have any special items that must be used on the tree? We'd love it if you share a picture of your tree with us! You'll have until January 8 to check out these trees, which takes you through Ukrainian Christmas.
Comfort Suites Bethlehem 120 W. Third St. Bethlehem, PA 18015 www.comfortsuitesbethlehem.com 610-882-9700