PEEPS®. You know, those marshmallow sugary confections that adorn Easter baskets, and have a shape for every holiday? I think year round, PEEPS® are the topic of some heated discussions. From how you eat them (fresh, stale, frozen, or melted), to which color tastes best (Really? Don't they all taste the same?), to what shape people like the most (Fact: yellow chicks followed by yellow bunnies).
So each year I do a little surfing on the world wide webs to find out exactly what people are always making such a fuss about. Here's what I dug up for 2016:
1. For starters, PEEPS® are made in Lehigh Valley, Pennsylvania at Just Born, Inc. And, did you know that each New Year's Eve, a gigantic PEEPS® chick is dropped at the SteelStacks Campus during PEEPS® Fest? You can learn more here. And, here's a short video clip about the event.
2. The PEEPS® Brand has its own Instagram account and the images include so many unique ways to use PEEPS®.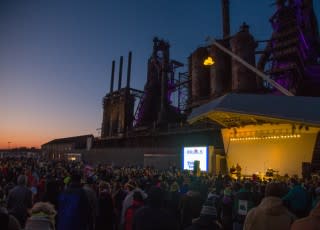 3. You can shop by color on the PEEPS® brand page.
4. People make some very unique displays with PEEPS®, including Jonathan "Peepelbon" and Bryce Harper stadiums, among others.
5. Just Born pitted Pennsylvania's famous groundhog, who is traditionally known as the first sign of spring, against PEEPS®, to serve as the new spring "spokespeep."
6. You can buy PEEPS® milk in strawberry creme, chocolate marshmallow, and orange crème flavors. And, they also make eggnog.
7. And, while we're talking milk … you can also use it in making cocktails!
8. If cocktails aren't your thing, but beer is, you should pay a visit to Barrels and Bottles in Colorado for their Hoppy PEEPS® ESP release.
9. Buzzfeed teaches you 31 things you can do with PEEPS® and your kids, like making Playdough!
10. Talking PEEPS® food, Betty Crocker shares with us how to make a PEEPS® Easter Garden Cake.
11. Bacon Today tells us how to make Bacon Chocolate PEEPS®.
12. National Harbor, Md. hosted a World PEEPS® Eating Championship on April 2.
13. Shape.com digests the anatomy of PEEPS®.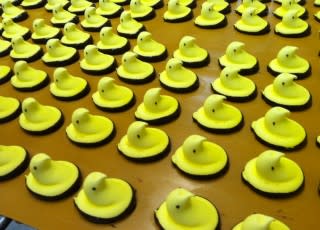 14. Cleveland has some rather unique trivia about PEEPS®.
15. And lastly, MSN.com shows us how the PEEPS® are made from inside the Just Born factory.
So, once again, I found plenty of new things on PEEPS® since last year , and the year before, and the year before that ... and well, even the year before that. I didn't find many new videos though, which was quite a disappointment.
Tell me, are you one of those crazed by PEEPS®? Love 'em? Hate 'em? What do you do with your PEEPS®? I wanna know!