PHOTO & VIDEO REQUESTS
Discover Lehigh Valley offers a library featuring a wide variety of videos and photos that showcase the region. These high-quality photos feature a variety of locations and sites within Allentown, Bethlehem, Easton, and everywhere in between.
Our full video library can be found on our YouTube channel.
Can't find what you're looking for? No problem. Just let us know and we are happy to help out.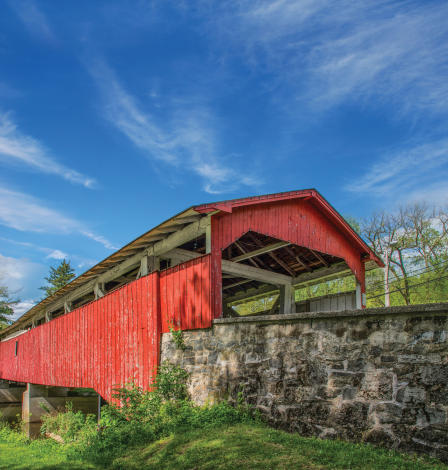 photo by Hub Wilson, courtesy DiscoverLehighValley.com
All images and videos are to be credited to Discover Lehigh Valley®, DiscoverLehighValley.com or the photographer (if there is one).
Bogert's Covered Bridge
The Lehigh Valley Covered Bridge tour starts here at Bogert's Covered Bridge, a pedestrian-only span, built in 1841. The bridge, owned by the City of Allentown, is in the Lehigh Parkway and is thought to be one of the oldest in the state. It's a true gem and arguably one of the most recognizable covered bridges in the area. It is also at a key spot in Lehigh Parkway, one of the best places to run or take a long walk in the area. If you like to fish, the bridge spans the Little Lehigh Creek, a popular fishing stream.