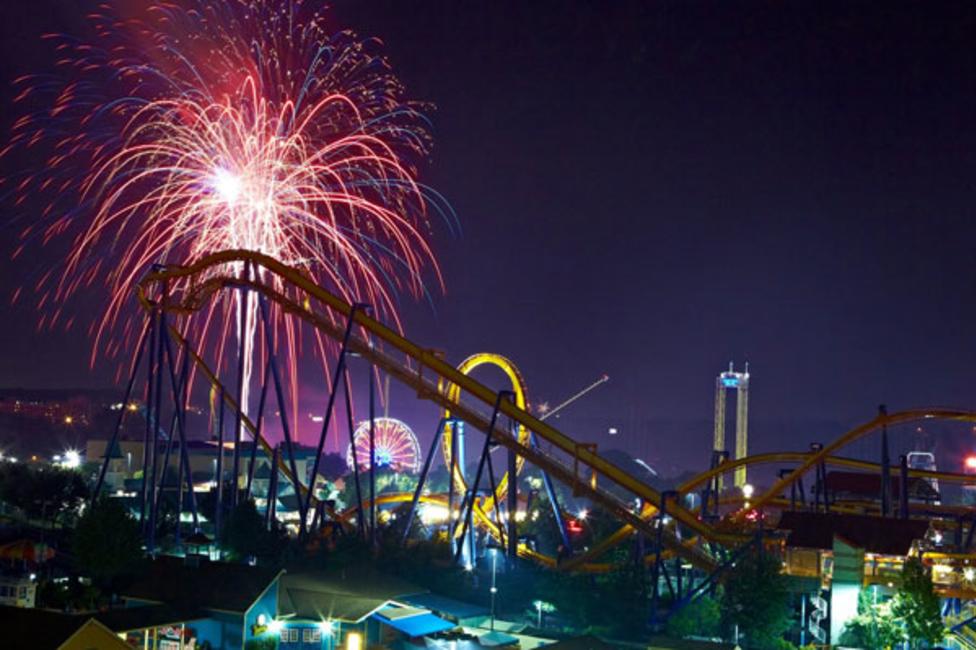 LEHIGH VALLEY, Pa., May 13, 2021 – Summer fun in Lehigh Valley is back. Just 90 minutes west of New York City and 60 minutes north of Philadelphia, Lehigh Valley, Pennsylvania is the perfect spot for a fun and affordable summer trip for all ages. Discover Lehigh Valley®, a nonprofit organization dedicated to promoting and driving tourism to Lehigh and Northampton counties, shares its tips to maximize the summer months safely. "We know people nationwide are excited to get out of their homes and begin traveling again this summer as the highly-anticipated warm weather arrives," said Alicia Quinn, vice president of marketing and strategic alliances for Discover Lehigh Valley. "We at Discover Lehigh Valley are excited to welcome back guests for the perfect summer getaway. From amusement parks and drive-in movies to outdoor adventures and local attractions, we offer activities the entire family will enjoy."
Highlights of our favorite summer activities in Lehigh Valley include:
The Sound of Musik – Voted one of the Best Music Festivals by USA Today's 10Best, Musikfest® is a jam-packed 10 days full of music, food and fun. This year's event is taking place August 6-15. Confirmed artists include country superstar Kelsey Ballerini, GRAMMY Award winner Darius Rucker, country legend Willie Nelson and the multi-platinum band Shinedown. Lehigh Valley's music scene goes throughout the entire summer so be sure to catch local artists play at SteelStacks™.
Ditch Zoom for the Zoo – Get your cameras ready because you're about to see over 100 species of animals up close and personal at the Lehigh Valley Zoo. From bobcats to zebras, you're sure to spot your favorite animal. Be sure to check out the penguins waddling along the land and diving into the waters, an experience you won't forget!
Experience Living History – Take a stroll of Historic Bethlehem to really soak in the rich heritage of the area including a variety of self-guided walking tours. Be sure to treat yourself to a delicious lunch at one of our cuisines downtown such as The Tap Room at the Historic Hotel Bethlehem which includes menu items such as made-from-scratch recipes and farm-to-table ingredients. While you're there, be sure to check out the gallery full of notable guests who have stayed the night at our hotel including John F. Kennedy, the Dalai Lama and more.
Fantastic Fairs – You're sure to find a fair you'll love in Lehigh Valley. Two fairs celebrating 30 years here are the Mayfair Festival of the Arts and Pennsylvania's Shakespeare Festival. Mayfair Festival of the Arts takes place the weekend of May 28-30 and features a variety of different forms of art to inspire! Pennsylvania's Shakespeare Festival runs from June 25 to August 1. With performances that go beyond Shakespeare, like musicals, comedies and kid-friendly spectacles, you're sure to find a show you'll enjoy. Be sure to take a peek at our events page to see fun and exciting upcoming events!
Color Outside the Lines – Take a break from the summer heat and discover the magic of color indoors at Crayola Experience. Create and name your own Crayola® crayon to take home and show your friends, feature yourself and "Be-A-Star" in your own coloring page, and even see a live theatre show led by animated crayons.
Amazing Amusement Parks – Attention adventure seekers, Dorney Park & Wildwater Kingdom will be opening on the following days: Dorney Park: May 22, and Wildwater Kingdom will be opening on May 29. Be sure to ride fan-favorite rollercoasters like Steel Force, Thunderhawk and Hydra: The Revenge. For the little ones, the park's Planet Snoopy section has the largest collection of kids rides in the region. Cool off at one of the country's best-ranked waterparks at Wildwater Kingdom. If scuba diving is more your speed, head over to the top-rated Dutch Springs. For visitors who want to stay above water, bounce on the Aqua Jump, a glorified trampoline on Dutch Springs' Lake. Don't fret, there is something for everybody here!
Get Deep with Cool Caves – Mystery and adventure take you underground at Lost River Caverns. Five picturesque caverns have an abundance of crystal formations along with fluorescent minerals. The clear waters that flow through come from an unknown source and then mysteriously disappear again. This is the perfect spot to explore when it's hot outside as it's always a constant 52 degrees.
Summer Nights at the Drive-In – Catch a double-feature at Shankweiler's Drive-In, the oldest drive-in movie theatre in America which has been in operation since 1934 or head to Becky's Drive-In for a more modern vibe. Take in this classic entertainment under the stars and feel free to grab a bite at the stocked snack bar to satisfy your sweet and salty cravings while you watch.
Earthly Exploration – At Earthwalk Explorer, a free and new exhibit at the Da Vinci Science Center, each footstep you take is an exploration of miles of different terrain. This 3D, walkable map lets you experience the hills and valleys of the Northeast. Two geoshows projected on the map showcase how geography, history and culture all intertwine to make today's communities.
The Freshest Farm Goods– Be sure to save your appetite for some locally grown produce to delicious specialty drinks, Lehigh Valley's Farmers Markets has it all. While there, be sure to discover the freshest fruits, vegetables, and handmade goods and browse the local Lehigh Valley farm stands for what's in season and available for you to even pick your own goodies!
Friday Nights Under the Lights – You will not want to miss the Friday Nights Under the Lights tradition hosted at the Valley Preferred Cycling Center. Clear your Friday nights starting on June 4 and be sure to check out the track that the very best athletes in the world have raced on. Friday Nights Under the Lights provide a great spectating experience week in week out and even offer the opportunity for racers to test themselves on our famed concrete crater.
Visit DiscoverLehighValley.com for more things to do and follow @LehighValleyPa on Facebook, Instagram, and Twitter.
About Discover Lehigh Valley
Discover Lehigh Valley®, the official destination marketing organization of Pennsylvania's Lehigh and Northampton counties, is dedicated to driving economic growth and strengthening local pride through tourism to the region. Just 60 minutes north of Philadelphia and 90 minutes west of New York City, Lehigh Valley is home to must-see attractions and festivals, world-class sporting events, thrilling outdoor recreation, renowned colleges and universities, and historic sites including Bethlehem, a National Historic Landmark District and nominee on the U.S. Tentative List for World Heritage Designation. Many of America's favorite brands such as Crayola®, Peeps®, Mike & Ike®, Martin Guitars, Mack Trucks and Olympus reign from Lehigh Valley. Visit DiscoverLehighValley.com and follow @LehighValleyPa.
###