Team to play against Women's National Softball Team at Patriots Park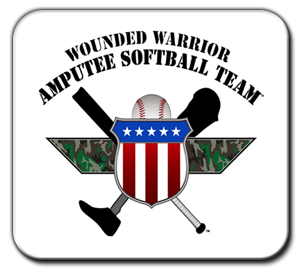 The Wounded Warrior Amputee Softball Team (WWAST) and Women's National Softball Association (WNSA) are hoping for a sell out at Allentown's Patriots Park during their May 16 fundraising double-header.
The event will mark the Allentown debut of WWAST, which represents some of the nation's bravest and most determined heroes, soldiers and veterans. The individuals comprising the team have sustained severe injuries resulting in amputation, and through extensive rehabilitation, they have become competitive athletes again, playing against able-bodied teams in exhibition games across the country.
Discover Lehigh Valley Sports, a division of Discover Lehigh Valley, the official Destination Marketing Organization for Lehigh and Northampton counties in eastern Pennsylvania, facilitated the organization of the event.
"Having the Wounded Warrior Amputee Softball Team in Allentown is an honor," Discover Lehigh Valley President, Michael Stershic said. "We're proud that Allentown could serve as a location for this important event."
The WNSA is supporting the double-header with fundraisers and support from advertisers such as the Lehigh Valley IronPigs, Staybridge Suites and Just Born, Inc.
The games will take place from 5 to 10 p.m. at Patriots Park, 1027 W. Wyoming St., Allentown, PA.
Also on hand, renowned athlete, psychologist and author, Steven Clarfield, Ph.D, will be autographing his book, "Battlefield to Ball Field," and answering questions about his documenting of the origins of the WWAST.
About Discover Lehigh Valley
Discover Lehigh Valley is the designated destination marketing organization (DMO) of Lehigh and Northampton counties. Its mission is to promote and develop Lehigh Valley as a leisure and business travel destination. Created in 1984, Discover Lehigh Valley assists in promoting regional tourism, an industry that generates $1.906 billion in annual revenue and accounts for more than 22,000 jobs in Lehigh Valley. For more information on Discover Lehigh Valley and its activities or to request a Lehigh Valley Official Visitors Guide, call (800) MEET-HERE, or visit the official tourism website of Lehigh Valley at DiscoverLehighValley.com.
##
Media Contacts
Women's National Softball Association
Mary Lilley-Thompson, Media and Marketing Coordinator
marystarshine@gmail.com
Wounded Warrior Amputee Softball Team
http://www.woundedwarrioramputeesoftballteam.org
www.facebook.com/WoundedWarriorAmputeeSoftballTeam
Discover Lehigh Valley
George Wacker, Communications Manager
610-882-9200
george@DiscoverLehighValley.com