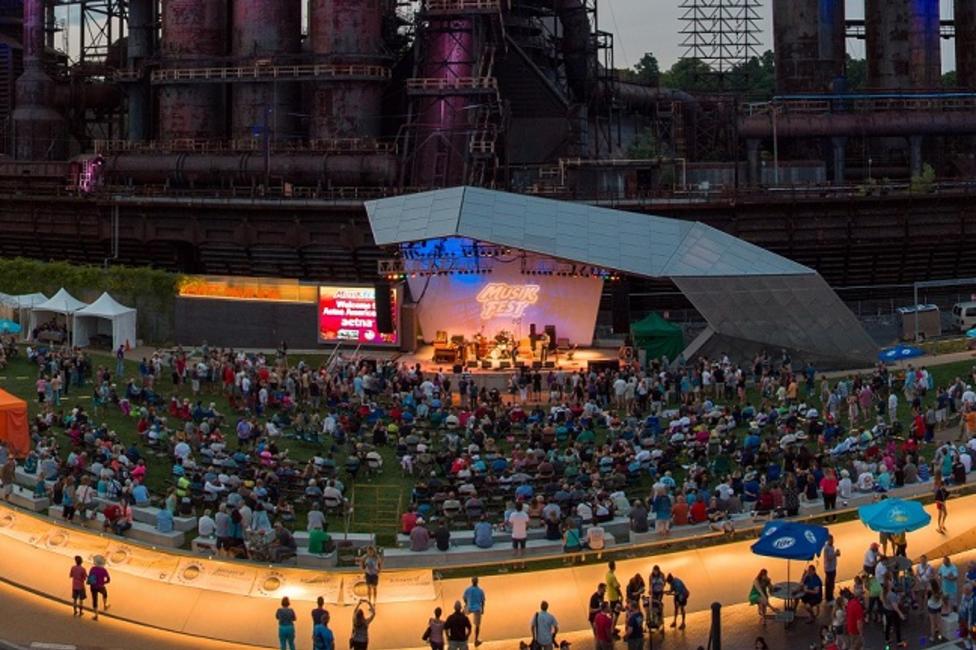 Discover Lehigh Valley® shares its must-visit list of events and attractions to celebrate summer.
LEHIGH VALLEY, Pa., June 18, 2019 – Lehigh Valley, a region set amid charming countrysides and bustling city centers, has been named a top place to live by U.S. News & World Report and for good reason, too. As Pennsylvania's fastest growing and third most populous region, Lehigh Valley has the perfect mix of entertainment and residential appeal to attract both visitors and job seekers to the region. Whether someone is new to the area or just passing through, summer is prime time to explore Lehigh Valley. And, Discover Lehigh Valley®, an organization charged with driving tourism to Lehigh and Northampton counties, is sharing its list of nationally-known events and attractions for can't miss summer fun.
"There's something special about summers in Lehigh Valley," says Alicia Quinn, vice president of marketing and strategic alliances for Discover Lehigh Valley. "From the breathtaking and lush landscapes, outdoor concerts and movies under the stars, to the fun and thrills to be had at Dorney Park & Wildwater Kingdom and Dutch Springs Aqua Park — endless summer fun is made possible here and it's all just a quick drive from major metropolitan areas." 
Create a summer getaway with these Discover Lehigh Valley recommendations:
Nationally Recognized Festivals 
Lehigh Valley SoccerFest & Viewing Party (June 2019) – Hosted in the heart of Bethlehem at SteelStacks, a 10-acre campus anchored by the iconic blast furnaces of the former Bethlehem Steel, Lehigh Valley SoccerFest welcomes sports fanatics and casual fans to watch the U.S. Women's National Soccer Team in action on an outdoor LED screen and participate in family-focused activities. Featured in Men's Journal, Lehigh Valley SoccerFest plays the USWNST matches in June as the team advances.
Easton Heritage Day (July 14, 2019) – Uncover American history in Easton. One of three locations where the Declaration of Independence was first publicly read on July 8, 1776, Easton Heritage Day welcomes families to enjoy local history, children-friendly events, and fireworks over the Forks of the Delaware. 
Musikfest (August 2-11, 2019) – Voted the best music festival in North America by USA Today, Musikfest overtakes Historic and South Bethlehem for ten days of nonstop music in August. Along with hundreds of artists from around the world – including performances this year by Earth, Wind & Fire, The Chainsmokers, Lady Antebellum, and Brad Paisley – the food also takes centerstage. The Bethlehem Dairy Store, Island Noodles, Aw Shucks Corn, and Chick n' Cone are classic eats. Bring the kids too! From arts and crafts to street performers, Musikfest welcomes music lovers of all ages. 
Unique Entertainment 
Shankweiler's Drive-In Theatre – The oldest drive-in movie theatre in America and featured in Architecture's Digest, Shankweiler's creates a memory-filled night. Operating in Lehigh Valley since 1934, the theatre welcomes guests weekends in April, May, and September, as well as nightly in June, July, and August. The historic theatre also offers double features for the price of one and a full snack bar.
Becky's Drive-In – Featured by Architecture's Digest, USA Today, and The New York Times as a top theatre, Becky's Drive-in takes visitors back to a simpler life. Perfect for a date night or family outing, Becky's offers double features from the comfort of a vehicle or while lounging in the grassy field.
Family Thrills 
Dorney Park & Wildwater Kingdom – Thrills and chills start in Lehigh Valley. Visit Dorney Park & Wildwater Kingdom to enjoy two great parks for the price of one. With more than 100 rides, shows and attractions, including seven roller coasters, the largest collection of kids' rides in Planet Snoopy™, and one of the country's best-ranked water parks, Dorney Park & Wildwater Kingdom defines family fun.
Lehigh Valley Zoo – Visit the wild side at Lehigh Valley Zoo. Home to more than 300 animals representing over 100 species, the Lehigh Valley Zoo sits on the 1,100-acre Trexler Nature Preserve and offers an unforgettable family experience among nature.
Lehigh Valley IronPigs – Enjoy America's favorite pastime with a side of bacon-themed family-friendly activities. Since debuting in 2008, the IronPigs have led Minor League Baseball in per game attendance at Coca-Cola Park with more than 10,100 fans. Whether fans enjoy the pork-themed mascot races, ketchup and mustard T-shirt launchers, or 334 food options, the IronPigs bring affordable family entertainment to Lehigh Valley.
Outdoor Adventures 
Hawk Mountain Sanctuary – A premier trail for hiking and birdwatching, Hawk Mountain Sanctuary is located along the Appalachian flyway. Summer provides an ideal time to explore the beautiful scenery and watch for raptors. Visitors can explore the rugged eight-mile trail system, scenic overlooks, weekend educational programs, and visitor center. A new accessible trail to the South Lookout ensures access for all.
Delaware & Lehigh National Heritage Corridor – Bike, hike, or run along the Delaware & Lehigh National Heritage Corridor to experience Lehigh Valley in a whole new way. The multi-use trail spanning 165 miles runs through the region telling stories of railroads, canals, rivers, and trails. For an educational experience, visit the National Canal Museum to learn stories of America's historic towpath canals.
Dutch Springs Aqua Park – Cool down at one of Lehigh Valley's most wet and wild attractions. A 50-acre aqua park in a man-made lake, Dutch Springs is home to the Sky Challenge, a high ropes and two-story rock-climbing wall, countless water attractions, and scuba diving. Named as a top diving site in the world, Dutch Springs helps travelers have a splashing good time. 
Summer fun is made possible in Lehigh Valley. Plan your getaway at DiscoverLehighValley.com/Summer and view photos of these locations, here. Follow @LehighValleyPa on Facebook, Instagram, and Twitter.
About Discover Lehigh Valley
Established in 1984, Discover Lehigh Valley® makes Lehigh and Northampton counties a premier destination through marketing and image building that increases the number of visitors, the number of nights they stay and the number of things they do in the region.
Discover Lehigh Valley's official visitor website, DiscoverLehighValley.com, keeps locals and visitors abreast of all things happening in the region. Visitors can explore things to do, upcoming events, themed itineraries and hotel packages. Compelling photography and videos, brochures and detailed visitor information make the sites effective trip-planning tools. Along with Discover Lehigh Valley's social media channels, the online platforms communicate directly with consumers. Travelers can also call and stop into one of the many visitor centers for additional information.
About Lehigh Valley, Pa.
Set amid gentle hills and charming country sides, Lehigh Valley, Pa. is home to Allentown, Bethlehem and Easton, as well as dozens of small towns and picturesque boroughs. 
The region is steeped in pre-Colonial, Early American and industrial history. Lehigh Valley has an impressive range of tourist attractions including nationally-recognized events like Musikfest, wineries and breweries, the Lehigh Valley Zoo, outdoor activities, world-class sporting events, 10 colleges and universities, and is home to America's favorite brands such as Crayola®, Peeps®, Mike & Ike®, Martin Guitars and Mack Trucks. The region offers a diverse array of memorable things to do and plenty of dining options to fit every budget and taste. 
And, it's easy to get to and around. Lehigh Valley is located approximately 60 minutes north of Philadelphia and 90 minutes west of New York City by car.