New restaurant and ride at Dorney Park & Wildwater Kingdom highlight another fun summer
[caption id="attachment_44583" align="alignright" width="411"]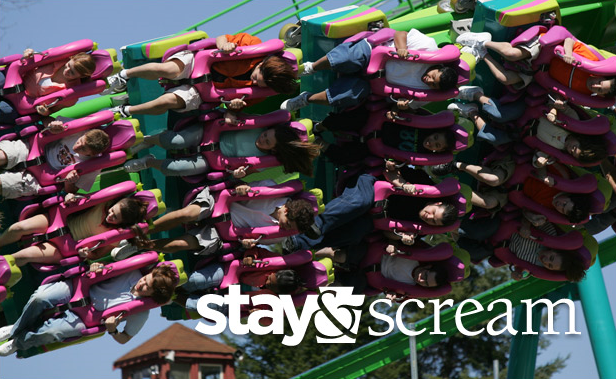 Stay & Scream at Dorney Park & Wildwater Kingdom[/caption]
Visiting Dorney Park & Wildwater Kingdom in Lehigh Valley, Pennsylvania just got a bit easier with Discover Lehigh Valley's "Stay &  Scream" travel package deals.
Discover Lehigh Valley, the official Destination Marketing Organization for Lehigh and Northampton counties in eastern Pennsylvania, offers discounted admission tickets and reduced rates on participating hotels. "Stay & Scream" allows families to enjoy both parks over multiple days rather than rush through them in a few hours.
Getting in on the savings is easy. Visit DorneyDeals.com where travelers can view 15 participating hotels with detailed Stay & Scream package information. Once a selection has been made, contact the hotel and book an overnight getaway to Dorney Park & Wildwater Kingdom. Stay & Scream travel packages are valid through September 7, 2015. Rates are based on availability and are subject to change.
Home to the longest and tallest inverted coaster in the Northeast and one of the largest collections of water attractions in the country, Dorney Park & Wildwater Kingdom is the ultimate family destination. And, it's the only place on the east coast where families can visit Snoopy, Charlie Brown and the PEANUTS™ gang at Planet Snoopy.
New for 2015 at Dorney Park is the Cedar Creek Flyers ride, which takes visitors on a flight in a two-person eagle-themed plane. Also new is The Smokehouse Barbecue Restaurant, which plans to feed many a hungry roller coaster enthusiasts from its centralized location.
Just last year, Wildwater Kingdom introduced the Snake Pit which features six fast and furious water slides that aren't for the squeamish!
Wildwater Kingdom also features Aqua Racer, Aquablast, Wildwater Rapids, two lazy rivers, speed slides and a wave pool.
Dorney Park is full of thrilling rides, including HYDRA: The Revenge, Steel Force, Stinger, ThunderHawk, Talon, Demon Drop, Dominator, White Water Landing, and many more. But for the youngsters who aren't old or tall enough for the extreme rides or roller coasters, there is a section just for them called Planet Snoopy.
In addition to Dorney Park & Wildwater Kingdom, Lehigh Valley visitors can explore a multitude of other area attractions, including; The Crayola Experience™, DaVinci Science Center, Lehigh Valley Zoo, Lehigh Valley IronPigs baseball team (Phillies Triple-A affiliate), ArtsQuest Center at SteelStacks™, golfing, fairs and festivals, historic sites, museums and much more. For detailed information on hundreds of Lehigh Valley attractions, visit DiscoverLehighValley.com.
The Lehigh Valley region of eastern Pennsylvania is located approximately 60 minutes north of Philadelphia and less than 90 minutes west of New York City. It is home to the three cities of Allentown, Bethlehem and Easton.
About Discover Lehigh Valley
Discover Lehigh Valley is the designated destination marketing organization (DMO) of Lehigh and Northampton counties. Its mission is to promote and develop Lehigh Valley as a leisure and business travel destination. Created in 1984, Discover Lehigh Valley assists in promoting regional tourism, an industry that generates $1.906 billion in annual revenue and accounts for more than 22,000 jobs in Lehigh Valley. For more information on Discover Lehigh Valley and its activities or to request a Lehigh Valley Official Visitors Guide, call (800) MEET-HERE, or visit the official tourism website of Lehigh Valley at DiscoverLehighValley.com.
##
Media Contact:
George Wacker
610-882-9200
george@DiscoverLehighValley.com