Discover Lehigh Valley® launches marketing campaign to drive tourism in the area.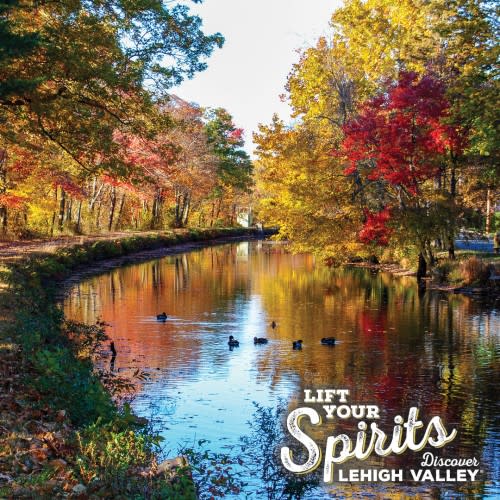 LEHIGH VALLEY, Pa., October 4, 2016 – Discover Lehigh Valley®, a nonprofit organization dedicated to promoting tourism to Lehigh and Northampton counties, invites locals and visitors alike to experience Lehigh Valley this fall with the new Lift Your Spirits campaign. Bold, uplifting and homegrown, Lift Your Spirits calls upon visitors to craft their own memories while enjoying the beauty and wonders of Lehigh Valley.
"From seasonal events throughout Allentown, Bethlehem, Easton and the surrounding areas and breathtaking fall foliage seen on the hiking trails, to savory farm-to-table autumn fare, incredible ale and wine trails and pumpkin picking— there's just no better place to Lift Your Spirits this fall," said Alicia Quinn, strategic brand manager for Discover Lehigh Valley. "Our new campaign is designed to do just that—to tell the story of all our region has to offer and to inspire people to enjoy and fall in love with Lehigh Valley this season and beyond."
The traditional and digital media campaign includes billboards along Route 22 and the I-78 corridor, a social media contest and ad campaign using #LiftYourSpiritsDLV, print ads, public relations initiatives and more. Lift Your Spirits will extend beyond fall and become a larger part of Discover Lehigh Valley's everyday marketing efforts in driving tourism to the region. For example, come the holiday season, locals and visitors will once again be welcomed by the next phase of the Lift Your Spirits campaign as they enjoy the festivities of the season and get into the holiday spirit throughout Lehigh Valley.
"Lehigh Valley is home to some truly unique and special holiday celebrations, and we want everyone to come and enjoy their time while visiting here," said Discover Lehigh Valley President Michael Stershic. "We are also asking our loyal locals to help us by sharing their experiences in Lehigh Valley, too. The campaign was inspired by our community's local businesses, attractions and events, and we have a lot to be proud of living in this region."
For more information about the Lift Your Spirits campaign, Discover Lehigh Valley and all the things to do in the region, visit DiscoverLehighValley.com or follow @LehighValleyPa on Facebook, Instagram and Twitter.
About Discover Lehigh Valley
Established in 1984, Discover Lehigh Valley® makes Lehigh and Northampton counties a premier destination through marketing and image building that increases the number of visitors, the number of nights they stay and the number of things they do in the region.
Discover Lehigh Valley's official visitor website and blog, DiscoverLehighValley.com and LehighValleyInSite.com keeps locals and visitors abreast of all things happening in region. Visitors can explore things to do, upcoming events, themed itineraries and hotel packages. Compelling photography and videos, brochures and detailed visitor information make the sites effective trip-planning tools. Along with Discover Lehigh Valley's social media channels, the online platforms communicate directly with consumers. Travelers can also call and stop into one of the many visitor centers for additional information.
About Lehigh Valley, Pa.
Set amid gentle hills and charming country sides, Lehigh Valley, Pa. is home to Allentown, Bethlehem and Easton, as well as dozens of small towns and picturesque boroughs.
The region is steeped in pre-Colonial, Early American and industrial history. Lehigh Valley has an impressive range of tourist attractions including nationally-recognized events like Musikfest, wineries and breweries, the Lehigh Valley Zoo, outdoor activities, world-class sporting events, 10 colleges and universities, and is home to America's favorite brands such as Crayola®, Peeps, Mike & Ike®, Martin Guitars and Mack Trucks. The region offers a diverse array of memorable things to do and plenty of dining options to fit every budget and taste.
And, it's easy to get to and around. Lehigh Valley is located approximately 60 minutes north of Philadelphia and 90 minutes west of New York City by car.
###