Popular Soccerfest event to showcase Women's World Cup
[caption id="attachment_44704" align="alignright" width="300"]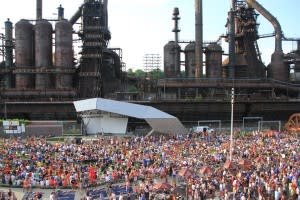 Thousands are expected to descend on SteelStacks in Bethlehem[/caption]
The Lehigh Valley SoccerFest & Viewing Party, which made its sensational debut during the 2014 FIFA World Cup™ last summer, is returning to SteelStacks this June, with crowds expected to fill the former Bethlehem Steel plant as they watch the U.S. Women's National Soccer Team on its quest for the World Cup™. The festival, which will feature all of the U.S.A.'s matches shown on a giant outdoor screen erected on the SteelStacks campus, kicks off June 8, 4 p.m., with live music, food, soccer-related activities and the U.S.A.'s first game against Australia later that evening.
"The U.S. Women's National Team features some of the top female soccer players in the world and is currently ranked No. 2 globally by FIFA," says ArtsQuest Senior Vice President of Marketing and Corporate Partnerships Curt Mosel.  "These women are not only incredible athletes, they're also tremendous role models for girls and young soccer players. We're looking forward to presenting a variety of programming and presentations that focus on the theme of empowering young girls to dream big and pursue their goals no matter what they may be."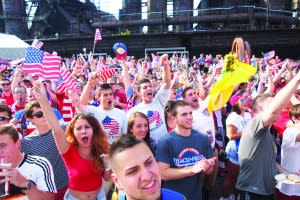 The 2015 SoccerFest will include all three U.S. Women's National Team opening-round matches on the jumbo screen, as well as other matches from group play taking place on the days the U.S. has a game. Following the preliminary round, the festival will continue to air the U.S. team's games should they advance in the tournament, set for June 6-July 5 in Canada. Opening round matches are:
June 8, 7:30 p.m.:       U.S.A. vs. Australia June 12, 8 p.m.:          U.S.A. vs. Sweden June 16, 8 p.m.:          U.S.A. vs. Nigeria
Adding to the electric atmosphere at SoccerFest in 2015 will be DJs spinning up dance music before or after the U.S.A.'s matches, as well as live music by bands such as indie rockers Summer Scouts. The SoccerFest will also feature soccer-related programs and activities including an interactive experience by the Philadelphia Union, family activities like soccer tennis and arts & crafts, vendors offering official U.S. Soccer merchandise and a presentation by Daniel Paul Morrison, the leading historian on the Bethlehem Steel F.C., the soccer powerhouse that was based at Bethlehem Steel and won five National Challenge Cups from 1915-'26. Complete details on SoccerFest will be announced later this month.
Named one of the "Best New Events" of 2014 by the International Festivals & Events Association (IFEA), the 2014 FIFA World Cup™ SoccerFest & Viewing Party at SteelStacks attracted more than 50,000 people to Bethlehem, a city that's home to less than 75,000 residents. The festival's unique location on the former steel mill and its enthusiastic crowds attracted attention around the nation, resulting in media coverage from ESPN, USA Today, The Los Angeles Times, The Philadelphia Inquirer and other national media outlets.
A partnership between Discover Lehigh Valley, Lehigh Mining & Navigation, Lehigh Valley United and ArtsQuest, the Lehigh Valley SoccerFest & Viewing Party is a free festival designed to bring the region together in a celebration of the World's Game. Partners helping to support the festival and make the giant television screen possible include Air Products, Good Shepherd Rehabilitation Network, the Outlets at Sands Bethlehem, Red Robin, Women's Health, Tampax and Labatt Blue. Other partners include Eastern Pennsylvania Youth Soccer Association and Quik Goal, the official soccer equipment provider for the SoccerFest and other soccer-related programs at SteelStacks.
For more information on the 2015 Lehigh Valley SoccerFest & Viewing Party, visit www.lvsoccerfest.com or like www.facebook.com/LVsoccerfest.
-30-
Media: Below is a link to download several images and a video clip from the 2014 FIFA World Cup Brazil™ SoccerFest & Viewing Party:
https://www.dropbox.com/sh/ixe8d909lxd39kp/AAC7NyBA2YissxNiV30_70Pqa?dl=0