Festival to Show U.S. Women's Matches from France on Giant LED Screen

BETHLEHEM, PA—June 11,  16 and 20. Mark these three dates on your calendar as the popular Lehigh Valley SoccerFest & Viewing Party returns to SteelStacks in Bethlehem to celebrate the Women's World Cup in France June 7-July 7, 2019. The festival will feature all three of the U.S. Women's National Team preliminary group matches on an outdoor LED screen on the campus, as well as a variety of soccer and family-focused programming taking place throughout the World Cup. Dates and times (EST) for U.S. women's games are: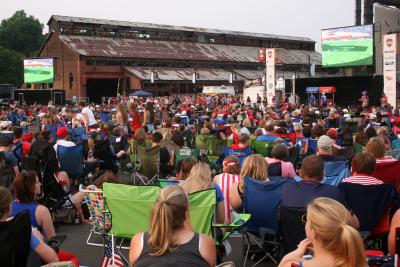 June 11, 3 p.m.:   Thailand
June 16, 9 a.m.:   Chile
June 20, 3 p.m.:   Sweden

Launched in 2014 with the Men's World Cup Brazil™, the Lehigh Valley SoccerFest & Viewing Party drew more than 25,000 people for the Women's World Cup viewing party in 2015, including 8,500 who came out to watch the U.S. defeat Japan in the finals July 5. As with past viewing party events at SteelStacks, the festival will seek approval to be an official FIFA World Cup viewing event for 2019. 
"The Lehigh Valley SoccerFest & Viewing Party brings our community together in a special way, appealing to the region's many cultures and soccer enthusiasts, while at the same time drawing casual sports fans who simply love to cheer on the U.S.," says ArtsQuest Chief Operating Officer Curt Mosel. "The energy and excitement of the crowds gathered on the SteelStacks campus for past viewing events was instrumental in attracting the attention of national media like ESPN, FOX Sports and USA Today, resulting in tremendous exposure for our region. We're looking forward to having everyone come out this summer to support the U.S. Women as they make another run at the Cup!"
Other SoccerFest events and attractions being planned include live concerts, themed culinary events, soccer clinics and a variety of arts-related programming. Partners helping to develop the SoccerFest 2019 event and program are Discover Lehigh Valley, Klunk & Millan Advertising, Garfield Group and Lehigh Valley United. Sponsors helping to make the festival possible include St. Luke's University Health Network, Good Shepherd Rehabilitation Network and Discover Lehigh Valley. 
"Discover Lehigh Valley is thrilled to support the return of the Lehigh Valley SoccerFest & Viewing Party in 2019," says Alex Michaels, President of Discover Lehigh Valley. This event brings our community and visitors together to celebrate one of the world's most popular sporting events. The upcoming Women's World Cup is one you won't want to miss, so be sure mark your calendars and join us in supporting this monumental family event. Go Team USA!"
 
Additional details on the Lehigh Valley SoccerFest will be announced over the coming months. For more information, visit www.discoverlehighvalley.com/soccerfest or like www.facebook.com/LVsoccerfest/.
Media Contact:
Mark Demko, ArtsQuest
610-332-1342 or mdemko@artsquest.org