Discover Lehigh Valley® reveals local tourism figures, strategic vision, ambassador program, and presents awards at its annual meeting. 
Discover Lehigh Valley 2018-2019 Annual Report overview:
16.5 million visitors welcomed 
$1.2 billion in visitor spending and overnight trips
$6.27 million spent by internationally based Visa cardholders, bolstering Lehigh Valley to rank seventh in Pennsylvania for international visitors
 
LEHIGH VALLEY, Pa., November 14, 2019 – Discover Lehigh Valley®, the destination marketing organization dedicated to promoting tourism in Pennsylvania's Lehigh and Northampton counties, has announced that Lehigh Valley welcomed 16.5 million visitors in its fiscal year ending June 30, 2019. The steady flow of tourism resulted in an influx of $1.2 billion to the local economy between visitor spending and overnight trips. Discover Lehigh Valley® shared the news at its annual meeting at Vault 634 where it hosted industry and business leaders from across the region.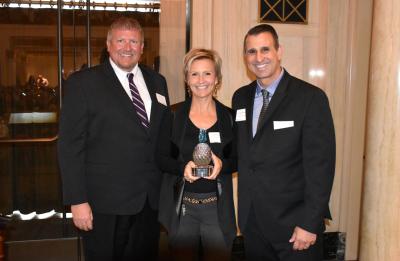 "Travel and tourism to Lehigh Valley is stronger than ever. Our annual findings show tourism plays a crucial role in building our local communities and economies, as well as the importance of strategically positioning Lehigh Valley as a top destination," says Alex Michaels, president and CEO for Discover Lehigh Valley. "Through collaboration of business, tourism, and local leaders, visitors are able to experience the heart of our region. As Discover Lehigh Valley looks to 2020, we are eager to provide memorable and inspiring visitor experiences that welcome people for years to come."
The group also shared findings from its DestinationNEXT Futures Study and its new strategic plan to strengthen the region's economy through tourism, while enhancing quality of life and regional pride for residents. To accomplish this mission, Discover Lehigh Valley will evaluate strategic tactics through the lenses of authenticity, collaboration, curiosity, and responsibility.
Discover Lehigh Valley also announced it will be launching a Certified Tourism AmbassadorTM (CTA) program in collaboration with Northampton Community College. CTA is an industry-recognized certification that educates local professionals on a destination's brand experience. 
Local leaders and businesses from across the region were also recognized for their efforts in strengthening local tourism in the last year through the following awards:
The Spirit of Tourism Award was presented to Joan Hanscom, executive director of Valley Preferred Cycling Center for her industry expertise, leadership and accomplishments that add value to the visitor's experience.
The Partnership Award was presented to Wind Creek Bethlehem for being a partner that consistently goes above and beyond in promoting the region and driving visitor engagement.
The Zenith Award was presented to the Lehigh Valley Phantoms. This award recognizes an organization responsible for hosting a large-scale meeting that brought a strong economic impact to Lehigh Valley. 
The Tourism Award was presented to City Center Allentown. This honor is given to a local business or initiative that joined the local tourism community in the past year and aided in enhancing the Lehigh Valley brand.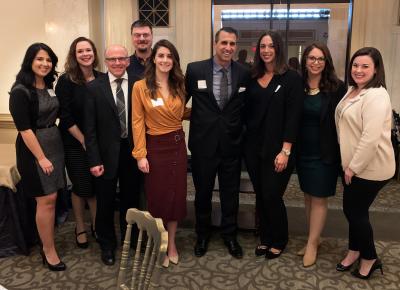 For more information on Discover Lehigh Valley's Annual Meeting, including photos from the event and the full annual report, visit DiscoverLehighValley.com/AnnualMeeting. 
About Discover Lehigh Valley
Established in 1984, Discover Lehigh Valley® makes Lehigh and Northampton counties a premier destination through marketing and image building that increases the number of visitors, the number of nights they stay and the number of things they do in the region.
Discover Lehigh Valley's official visitor website, DiscoverLehighValley.com, keeps locals and visitors abreast of all things happening in the region. Visitors can explore things to do, upcoming events, themed itineraries and hotel packages. Compelling photography and videos, brochures and detailed visitor information make the sites effective trip-planning tools. Along with Discover Lehigh Valley's social media channels, the online platforms communicate directly with consumers. Travelers can also call and stop into one of the many visitor centers for additional information.
About Lehigh Valley, Pa.
Set amid gentle hills and charming country sides, Lehigh Valley, Pa. is home to Allentown, Bethlehem and Easton, as well as dozens of small towns and picturesque boroughs. 
The region is steeped in pre-Colonial, Early American and industrial history. Lehigh Valley has an impressive range of tourist attractions including nationally-recognized events like Musikfest, wineries and breweries, the Lehigh Valley Zoo, outdoor activities, world-class sporting events, 10 colleges and universities, and is home to America's favorite brands such as Crayola®, Peeps®, Mike & Ike®, Martin Guitars and Mack Trucks. The region offers a diverse array of memorable things to do and plenty of dining options to fit every budget and taste. 
And, it's easy to get to and around. Lehigh Valley is located approximately 60 minutes north of Philadelphia and 90 minutes west of New York City by car.
###