Discover Lehigh Valley wins for Lifestyle Program: Feature/Segment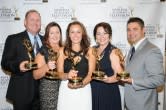 LEHIGH VALLEY, Pa. (September 21, 2015) – Discover Lehigh Valley took home a Mid-Atlantic Emmy® Award for the Lifestyle Program Feature/Segment category in a ceremony held at the Philadelphia Hilton, 4200 City Avenue, Philadelphia, Pa. on September 19.
The winning piece, DISHcover Lehigh Valley: Porters' Pub, was produced and hosted by Kim Lilly in partnership with Fire Rock Productions of Emmaus (Julia Urich, Director; Rocky Urich, Photographer) and Countess Communications of Allentown (Marta Countess, Associate Producer; Jeff Countess, Associate Photographer).
This is Discover Lehigh Valley's first Emmy® nomination and first win.
"I am incredibly honored and humbled to have received this award," said Kim Lilly, Executive Vice President of Discover Lehigh Valley. "The collaboration between Fire Rock Productions and Countess Communications could not have been a better fit for this segment. The taste of victory is a treat, and I am thrilled to bring the inside scoop to our audience through the use of video, which plays a huge role when marketing Lehigh Valley as a destination."
The DISHcover Lehigh Valley series explores local restaurants with a behind-the-scenes look at what makes each establishment unique. The Porters' Pub episode highlights the history of the pub with owner Larry Porter, as well as the restaurant's impressive food menu and extensive craft beer offerings.
The award-winning video can be seen on Discover Lehigh Valley's television channel, available on RCN and Service Electric on channel 189, or online via YouTube.
About Discover Lehigh Valley
Discover Lehigh Valley is the designated destination marketing organization (DMO) of Lehigh and Northampton counties. Its mission is to promote and develop Lehigh Valley as a leisure and business travel destination. Created in 1984, Discover Lehigh Valley assists in promoting regional tourism, an industry that generates $1.906 billion in annual revenue and accounts for more than 22,000 jobs in Lehigh Valley. For more information on Discover Lehigh Valley and its activities or to request a Lehigh Valley Official Visitors Guide, call (800) MEET-HERE, or visit the official tourism website of Lehigh Valley at DiscoverLehighValley.com.
###
Media Contact:
Kaitie Burger
610-882-9200
Kaitie@discoverlehighvalley.com