Ring in the New Year by saving money on area attractions, restaurants and lodging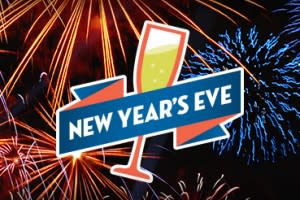 LEHIGH VALLEY, Pa. (December 17, 2013) – Times Square isn't the only place to be when the ball drops on New Year's Eve. Lehigh Valley is chocked full of fun ways to ring in 2014.  Discover Lehigh Valley, the area's designated destination marketing organization is making New Year's Eve celebrations more affordable with savings at area attractions, lodging and restaurants.
Lehigh Valley New Year's Eve events and discounts can be found HERE. Must-see attractions and savings include:
Allentown Comfort Suites
Celebrate New Year's Eve at Allentown Comfort Suites & Linx Restaurant & Pub. This package includes the following: three hour open bar, hors d'oeuvres, dinner buffet, live DJ, Champagne toast, dessert and breakfast buffet at midnight. Overnight accommodations reservations required.
Challenge Quest, known for their pub crawl events, is offering a new and unique way to ring in the New Year at the Cigar Factory in Allentown, Pa. Package includes: transportation to and from the event, mixed drinks, beer, entertainment, a DJ and a live band, art, drinking games, Champagne toast, snacks, dancers and more.
Celebrate New Year's Eve in Crayola Experience style! Admission includes: All day access to 21 hands-on attractions, free gift, dance party, two moonbounce rides, countdown with streamers, crayon character appearances.
Fegley's Brew Works New Year's Eve Prime Rib Spectacular! Call today and make your reservations for the Allentown or Bethlehem Brew Works New Year's Eve Prime Rib Dinner.
Contact Bethlehem Brew Works at 610-882-1300 or -mail banquet@thebrewworks.com.
Contact Allentown Brew Works at 610-433-7777 or e-mail sales@thebrewworks.com.
Celebrate a New Year's Eve that is to die for! Ring in 2014 with a bang, strangulation or poisoning by joining us for one of our award-winning Murder Mysteries based on the history of the Packer Family. Check-in Monday 12/30 check-out Wednesday 1/1.
Holiday Inn Conference Center
Enjoy a New Year's Eve extravaganza featuring New Riders of the Purple Sage, Melvin Seals & JGB and many more! V.I.P. Hotel Package includes: hotel room, two V.I.P. passes to the event, early check in of 2 p.m., late check out of 2 p.m., commemorative laminates, meet & greet/ poster signing, V.I.P.  lounge, V.I.P.  bar, late night music & All Star Jam for V.I.P.  guests, free beer and complimentary snacks (while supplies last) at Late Night Jam. To purchase a V.I.P. Hotel Package contact Val at: NYE2013@mjhotels.com
Celebrate in style this year! Enjoy a 2 night stay including full breakfast and welcome basket with cookies and sparkling beverage for toasting the New Year.
Musikfest Cafe at ArtsQuest Center™
Listen to Start Making Sense (a Talking Heads Tribute Band) during the New Year's Eve Party at SteelStacks. If David Byrne is one of the geniuses of modern times, then Start Making Sense is a tribute to genius. The musicians in this 7-piece Talking Heads Tribute take pride in faithfully recreating the music of Talking Heads entire career. Together they bring much of the Heads unique live show to the stage, with front man Jon Braun as a spot-on David Byrne, giving you a "once in a lifetime" experience. Prepare yourself for a rockin', funkin', danceable celebration of the new-wave art punk you loved from the 80s!
For tickets: artsquest.org or 610-332-1378
Ring in the New Year with us from 8 p.m. to 1 a.m. at the winery with friends, music, dancing, and artisan crafted Italian-style wines from our estate-grown grapes. Admission price includes an open wine bar and catering by Momento's Restaurant, owned by well-known Chef Nicola Mersini. We will serve gourmet pizzas, focaccia sandwiches, local artisan cheeses from Klein's farm and local artisan bread.
For a complete list of discounts on Lehigh Valley events, restaurants and lodging, visit www.discoverlehighvalley.com/deals/new-years-eve-in-lehigh-valley/
About Discover Lehigh Valley
Discover Lehigh Valley is the designated destination marketing organization (DMO) of Lehigh and Northampton counties. Its mission is to promote and develop Lehigh Valley as a leisure and business travel destination. Created in 1984, Discover Lehigh Valley assists in promoting regional tourism, an industry that generates $1.76 billion in annual revenue and accounts for more than 22,000 jobs in Lehigh Valley. For more information on Discover Lehigh Valley and its activities or to request a Lehigh Valley Official Visitors Guide, call (800) MEET-HERE, or visit the official tourism website of Lehigh Valley at DiscoverLehighValley.com.
Media Contact:
George Wacker
610-882-9200
george@DiscoverLehighValley.com
###