Find the true meaning of the holidays in the Christmas City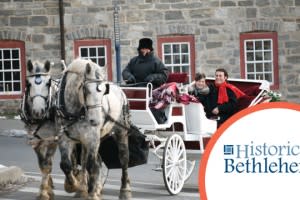 LEHIGH VALLEY, Pa. (November 11, 2013) – Discover Lehigh Valley, the official Destination Marketing Organization for Lehigh and Northampton counties in eastern Pennsylvania, is partnering with local businesses to help create new memories this holiday season. Discover the charm of yesteryear in Bethlehem, Pennsylvania, affectionately known as the Christmas City.
Costumed guides will whisk a lucky winner and a guest through the daily life and inner workings of the Moravian culture, bring them on a horse carriage ride through downtown, and pamper them with gift cards and fancy dinners during this treasured Ultimate Lehigh Valley Experience.
Visitors can enter throughout the month of November at LVUltimateExperience.com.
ULTIMATE HOLIDAY EXPERIENCE:
Day One:
$50 gift card to enjoy lunch at Bethlehem Brew Works
$100 gift card to enjoy dinner at Apollo Grill
Overnight accommodations at the Sayre Mansion
Day Two:
Breakfast at the Sayre Mansion
$50 gift card to enjoy lunch at Billy's Downtown Diner
$75 gift card to enjoy dinner at Edge
Overnight accommodations at the Sayre Mansion
Guided Tours:
Two passes to step inside the new collections vault with the curator at the Kemerer Museum
Two passes to tour the Gemeinhaus
Two passes to tour the Single Sister's House and the Nain Schober House
More Treasures:
A horse and carriage ride for two (reservations required)
The chance to make your own Moravian paper star, dress a candle and make a hook with a blacksmith
A keepsake picture with you and your guest in period costume
A set of Bach Choir CDs
$50 gift card to the Moravian Book Shop
Two tickets to ArtsQuest's Christkindlmarkt
The Grand Prize winner will also receive an Olympus digital camera to capture their Ultimate Lehigh Valley Experience courtesy of our friends at Olympus. A winner will be announced in the first week of December.
The Lehigh Valley Ultimate Holiday Experience is one of 12 monthly experience based travel packages Discover Lehigh Valley is giving away throughout 2013-14. For more information, full rules and prize descriptions for The Ultimate Lehigh Valley Experience, please visit LVUltimateExperience.com
About Discover Lehigh Valley
Discover Lehigh Valley is the designated destination marketing organization (DMO) of Lehigh and Northampton counties. Its mission is to promote and develop Lehigh Valley as a leisure and business travel destination. Created in 1984, Discover Lehigh Valley assists in promoting regional tourism, an industry that generates $1.76 billion in annual revenue and accounts for more than 22,000 jobs in Lehigh Valley. For more information on Discover Lehigh Valley and its activities or to request a Lehigh Valley Official Visitors Guide, call (800) MEET-HERE, or visit the official tourism website of Lehigh Valley at DiscoverLehighValley.com.