Get your ears and hands on the best music Lehigh Valley has to offer!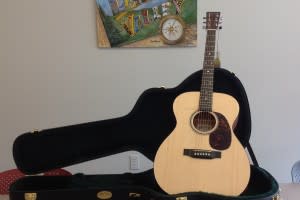 LEHIGH VALLEY, Pa. (October 4, 2013) – Discover Lehigh Valley, the official Destination Marketing Organization for Lehigh and Northampton counties in eastern Pennsylvania, is partnering with C.F. Martin & Co., Sands® Bethlehem Event Center, and other local companies to provide the most memorable music experience possible.
Visitors can enter throughout the month of October at LVUltimateExperience.com. Get ready to go behind the scenes at C.F. Martin & Co.'s factory tour, two tickets to a Sands® Bethlehem Event Center show, enjoy dinner at some of the hippest spots in town and, of course, your very own Martin Guitar.
ULTIMATE ACOUSTIC EXPERIENCE
Special Martin Guitar Museum Tour with Chris Martin IV
$100 gift certificate to the 1833 Shop
"Martin Guitar Masterpieces" book signed by Chris Martin IV
C.F. Martin & Co.® backlit wall sign
$50 gift card to enjoy lunch at Red Robin
Overnight accommodations at the TownePlace Suites by Mariott Bethlehem Easton
$75 gift card to enjoy dinner at Maxim's 22
Two tickets to a show at the Sands® Bethlehem Event Center
A model 16-GT Martin Guitar
The Grand Prize winner will also receive an Olympus digital camera to capture their Ultimate Lehigh Valley Experience courtesy of our friends at Olympus. A winner will be announced in the first week of October. The Lehigh Valley Ultimate Acoustic Experience is one of 12 monthly experience based travel packages Discover Lehigh Valley is giving away throughout 2013-14. For more information, full rules and prize descriptions for The Ultimate Lehigh Valley Experience, please visit LVUltimateExperience.com
About Discover Lehigh Valley
Discover Lehigh Valley is the designated destination marketing organization (DMO) of Lehigh and Northampton counties. Its mission is to promote and develop Lehigh Valley as a leisure and business travel destination. Created in 1984, Discover Lehigh Valley assists in promoting regional tourism, an industry that generates $1.76 billion in annual revenue and accounts for more than 22,000 jobs in Lehigh Valley. For more information on Discover Lehigh Valley and its activities or to request a Lehigh Valley Official Visitors Guide, call (800) MEET-HERE, or visit the official tourism website of Lehigh Valley at DiscoverLehighValley.com.
Media Contact:
George Wacker
610-882-9200
george@DiscoverLehighValley.com