Host of The Travel Channel's "Hotel Impossible" to present keynote address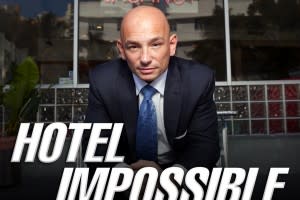 LEHIGH VALLEY, Pa. (October 11, 2013) – Discover Lehigh Valley's Annual Meeting,  November 7 at Easton's State Theatre for the Arts, will be "impossible" to forget.
The event, which highlights Discover Lehigh Valley's partners, as well as the state of tourism in Lehigh Valley, will feature Anthony Melchiorri, host of The Travel Channel's "Hotel Impossible."
Melchiorri has more than 20 years of tourism sales, marketing and branding experience. He's helped hospitality businesses thrive in highly competitive cities. Melchiorri is host and co-producer of "Hotel Impossible," which debuted in April 2012. The show chronicles Melchiorri's visits to downtrodden hotels and his efforts to improve them within a set timeframe.
As part of Discover Lehigh Valley's Annual Meeting, Melchiorri will highlight ways that local businesses can help themselves better their own bottom line during his keynote speech. The meeting also features a networking session, an annual awards presentation, and dinner.
The public is welcome to attend. Tickets are limited and priced at $75 per person. Those interested can R.S.V.P. to Ryan Hogan, Director of Marketing at ryan@DiscoverLehighValley.com. The event begins at 5:30 p.m.
Sponsorship opportunities are still available. For additional information, please call Ryan at 610-882-9200 or feel free to e-mail him at the aforementioned address.
About Discover Lehigh Valley
Discover Lehigh Valley is the designated destination marketing organization (DMO) of Lehigh and Northampton counties. Its mission is to promote and develop Lehigh Valley as a leisure and business travel destination. Created in 1984, Discover Lehigh Valley assists in promoting regional tourism, an industry that generates $1.76 billion in annual revenue and accounts for more than 22,000 jobs in Lehigh Valley. For more information on Discover Lehigh Valley and its activities or to request a Lehigh Valley Official Visitors Guide, call (800) MEET-HERE, or visit the official tourism website of Lehigh Valley at DiscoverLehighValley.com.
Media Contact:
George Wacker
610-882-9200
george@DiscoverLehighValley.com