Win great prizes during Discover Lehigh Valley's neon green promotion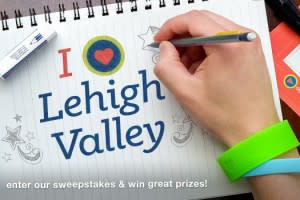 Discover Lehigh Valley is giving a chance for visitors and residents alike to wear their Lehigh Valley love on their sleeve…we mean wrist, as part of their "I Heart Lehigh Valley" promotion taking place throughout the summer.
Discover Lehigh Valley street teams will be at various Lehigh Valley events and locations throughout the summer distributing fun, bright neon green wristbands emblazoned with the phrase "I ♥ Lehigh Valley" and the URL www.discoverlehighvalley.com/iheartlv. Wristband wearers can then head to the website to sign up for a chance to win prizes.
Giveaways include:
• GoPro camera
• Lehigh Valley Phantoms prize pack, including tickets, jerseys, and more
• One night stay at Sands® Bethlehem, including dinner at Emeril's Italian Table
• Discover Lehigh Valley Sports branded Amazon Kindle
• Apple iPad mini
• Bear Creek Mountain Resort spa package, including overnight stay for two, $100 spa credit & gifts, and breakfast
• $150 Lehigh Valley Mall gift certificate
• Fitbit Flex wireless activity & sleep wristband
• $150 Ticketmaster gift card
• Beats by Dr. Dre. On-Ear Headphones
Street Team location and dates include:
• Kutztown Folk Festival - June 28, noon
• Easton Heritage Day - July 13, 6 p.m.
• Valley Preferred Cycling Center - July 18, 6:30 p.m.
• Coca-Cola Park - July 24, 5 p.m.
• Crayola Experience™ - July 25, 10:30 a.m.
• Sands® Bethlehem Event Center - Thursday, July 31, 7 p.m.
• Musikfest - August 1, 4:30 p.m.
• Lehigh Valley Airshow - August 23, noon
• The Great Allentown Fair - August 26, 6 p.m.
For more information on the sweepstakes, including official rules, please visit www.discoverlehighvalley.com/iheartlv.
About Discover Lehigh Valley
Discover Lehigh Valley is the designated destination marketing organization (DMO) of Lehigh and Northampton counties. Its mission is to promote and develop Lehigh Valley as a leisure and business travel destination. Created in 1984, Discover Lehigh Valley assists in promoting regional tourism, an industry that generates $1.857 billion in annual revenue and accounts for more than 22,000 jobs in Lehigh Valley. For more information on Discover Lehigh Valley and its activities or to request a Lehigh Valley Official Visitors Guide, call (800) MEET-HERE, or visit the official tourism website of Lehigh Valley at DiscoverLehighValley.com.
###
Media Contact:
George Wacker
610-882-9200
george@DiscoverLehighValley.com