Enjoy fall fun at Seiple Farms in Bath, PA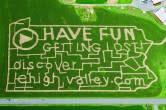 LEHIGH VALLEY, Pa. (September 15, 2015) – Discover Lehigh Valley, the official Destination Marketing Organization for Lehigh and Northampton counties in eastern Pennsylvania, has partnered with Seiple Farms in Bath (5761 Nor Bath Blvd., Bath, PA 18014) to sponsor the fall 2015 corn maze.
The maze was cut in mid-August and has been groomed to feature twisting paths throughout the design. The design itself features an outline of the state of Pennsylvania with Lehigh and Northampton counties highlighted. Within the outline, the maze spells out 'Have Fun Getting Lost. DiscoverLehighValley.com.' The maze takes approximately 1.5 hours to complete.
"Discover Lehigh Valley is excited to take part in this unique marketing opportunity," says Ryan Hogan, Director of Marketing for Discover Lehigh Valley. "Seiple Farms has been a farming staple in Lehigh Valley for more than a century, and we appreciate all that farmers do to make a living. Our organization feels privileged that they asked us to help carry on this fall tradition. It's just another great way to market our website and all the wonderful things our region has to offer."
Now in its eighth year, the Seiple Farms corn maze welcomes over 25,000 visitors from the tri-state area annually. The maze spans 18 acres with nearly three miles of path within. While inside the corn maze, visitors can partake in a scavenger hunt to find eighteen check-in points throughout the paths.
During weekend visits, families can visit farm animals, take a hayride out to the pumpkin patch to pick their own pumpkin, enjoy rides, food, and so much more. The on-site marketplace will offer pre-picked pumpkins and gourds, apples, apple cider, mums, and other seasonal items.
Seiple Farms will be open weekends from Saturday, September 26 through Sunday, November 1. Pricing for corn maze admission is $7 for adults; $6 for children ages 3 - 11; children under 2 are free. Coupons may be accessed at DiscoverLehighValley.com. Parking at Seiple Farms is free.
About Discover Lehigh Valley
Discover Lehigh Valley is the designated destination marketing organization (DMO) of Lehigh and Northampton counties. Its mission is to promote and develop Lehigh Valley as a leisure and business travel destination. Created in 1984, Discover Lehigh Valley assists in promoting regional tourism, an industry that generates $1.906 billion in annual revenue and accounts for more than 22,000 jobs in Lehigh Valley. For more information on Discover Lehigh Valley and its activities or to request a Lehigh Valley Official Visitors Guide, call (800) MEET-HERE, or visit the official tourism website of Lehigh Valley at DiscoverLehighValley.com.
###
Media Contacts:
Kaitie Burger
610-882-9200
Kaitie@discoverlehighvalley.com
Deb Colitas
610-972-7635
dcolitas@rcn.com