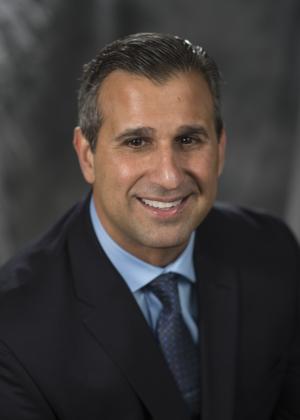 LEHIGH VALLEY, Pa., July 10, 2018 – In a unanimous decision, the Discover Lehigh Valley® board of directors today voted to appoint Alex Michaels as its incoming president, effective October 1, 2018. The destination marketing organization dedicated to promoting tourism in Pennsylvania's Lehigh and Northampton counties announced the appointment of Michaels, a former Lehigh Valley resident and 1987 Whitehall High School graduate, who will bring more than 25 years of executive sales and management experience within the hospitality and tourism, and sports council industries to his position.
"After an extensive search process, we are pleased to welcome Alex to our organization — and back to Lehigh Valley," said Kassie Hilgert, president and chief executive officer of ArtsQuest™ and chair of Discover Lehigh Valley's board of directors. "We are confident that Alex's leadership and experience within the tourism industry are a natural fit and will propel our efforts forward, helping build on the continued success that Michael Stershic has helped our organization accomplish over the last 14 years."
Most recently, Michaels served as vice president of sales and services for Visit Virginia's Blue Ridge and as chief operating officer for Virginia's Blue Ridge Sports Council. Prior to that, he held positions as director of national accounts and director of sales at Visit Jacksonville Convention and Visitors Bureau — where he was named top producer for eight consecutive years and honored with the Rising Star Award by Meeting Professionals International. He also held the role of senior sales manager at Daytona Beach Convention and Visitors Bureau. Additionally, he served in the United States Navy, enlisting as a medical specialist before taking on roles of purchasing manager and hospital corpsman. He earned nine awards and five medals from 2001 to 2005, including the Navy and Marine Corp Achievement Medal for service above and beyond the call of duty.
"Alex has demonstrated sustainable growth in the various destinations he's worked to support and has proven himself as a leader in the tourism and hospitality industries. His skillset exemplifies the exact candidate we were looking for and we are thrilled to have him join the Discover Lehigh Valley team and support us in our mission to drive travel and tourism traffic to our ever-growing region," said Kurt Landes, Lehigh Valley IronPigs president and general manager and co-chair of the Discover Lehigh Valley executive search committee along with Hilgert.
Travel and tourism is indeed a major economic producer with more than $2 billion spent annually in the region. Approximately 24,750 jobs are sustained by the industry and $480 million is provided in tax revenue for federal, state and local governments, making Lehigh Valley one of the fastest-growing regions in Pennsylvania. Discover Lehigh Valley works to promote and develop Lehigh Valley as a leisure, sports and business travel destination and to secure tourism dollars for local businesses, properties, attractions and more.
In March, Discover Lehigh Valley's current and long-time president, Michael Stershic, announced he would retire at the end of 2018, jumpstarting the careful search for his successor. Michaels will start on October 1, 2018 to overlap with the end of Stershic's tenure and ensure a smooth and seamless transition.
About Discover Lehigh Valley
Established in 1984, Discover Lehigh Valley® makes Lehigh and Northampton counties a premier destination through marketing and image building that increases the number of visitors, the number of nights they stay and the number of things they do in the region.
Discover Lehigh Valley's official visitor website and blog, DiscoverLehighValley.com and LehighValleyInSite.com keeps locals and visitors abreast of all things happening in the region. Visitors can explore things to do, upcoming events, themed itineraries and hotel packages. Compelling photography and videos, brochures and detailed visitor information make the sites effective trip-planning tools. Along with Discover Lehigh Valley's social media channels, the online platforms communicate directly with consumers. Follow @LehighValleyPa on Facebook, Instagram, and Twitter.
Travelers can also call and stop into one of the many visitor centers for additional information.
About Lehigh Valley, Pa.
Set amid gentle hills and charming country sides, Lehigh Valley, Pa. is home to Allentown, Bethlehem and Easton, as well as dozens of small towns and picturesque boroughs.
The region is steeped in pre-Colonial, Early American and industrial history. Lehigh Valley has an impressive range of tourist attractions including nationally-recognized events like Musikfest, wineries and breweries, the Lehigh Valley Zoo, outdoor activities, world-class sporting events, 10 colleges and universities, and is home to America's favorite brands such as Crayola®, Peeps®, Mike & Ike®, Martin Guitars and Mack Trucks. The region offers a diverse array of memorable things to do and plenty of dining options to fit every budget and taste.
And, it's easy to get to and around. Lehigh Valley is located approximately 60 minutes north of Philadelphia and 90 minutes west of New York City by car.