Lehigh Valley Business presents the award.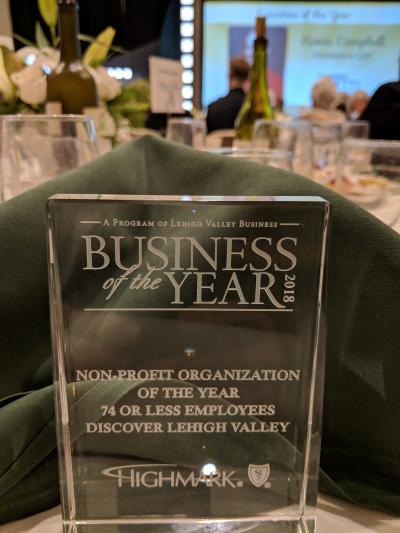 LEHIGH VALLEY, PA (December 5, 2018) – Discover Lehigh Valley®, the destination marketing organization dedicated to promoting tourism in Pennsylvania's Lehigh and Northampton counties, has been named Non-Profit Organization of the Year (small) by Lehigh Valley Business. Michael Stershic, president of Discover Lehigh Valley, accepted the award in a ceremony held at DeSales University on Tuesday, December 4.
The Business of the Year awards recognizes the Greater Lehigh Valley's most dynamic businesses and business leaders who share a commitment to professional excellence, business growth and the community. 
"This is the first time that we have included non-profits into our Business of the Year celebration," said Mike O'Rourke, publisher of Lehigh Valley Business. "We did this because of the impact the non-profit community has on the region. Non-profits were judged on their contributions to delivering services, funding or programs that benefit our community, and were broken into two categories based on employee size."
Discover Lehigh Valley® works to promote and develop Lehigh Valley as a leisure and business destination, focusing on improving the visitor experience and satisfaction. 
"The most important turning point for our organization was our rebranding and name change," said Mike Stershic, president of Discover Lehigh Valley. "Founded as Lehigh Valley Convention and Visitors Bureau, we went through a long and exhaustive analysis of what we are and where we wanted to go and the change of name to Discover Lehigh Valley was crucial to that transition. Using a name that is also a call to action drove us forward. Immediately, more people - both in and outside Lehigh Valley - recognized us and understood what we do. Our profile was raised and that has helped us reach our markets more effectively."
Discover Lehigh Valley® recently celebrated a record-breaking year with the release of its annual report for fiscal year 2017-18. To obtain a copy of the annual report, please visit DiscoverLehighValley.com/about-dlv/. 
About Discover Lehigh Valley®
Established in 1984, Discover Lehigh Valley® makes Lehigh and Northampton counties a premier destination through marketing and image building that increases the number of visitors, the number of nights they stay, and the number of things they do in the region.
Discover Lehigh Valley's official visitor website and blog, DiscoverLehighValley.com, keeps locals and visitors abreast of all things happening in region. Visitors can explore things to do, upcoming events, themed itineraries, and hotel packages. Compelling photography and videos, brochures, and detailed visitor information contribute to the site's effective trip-planning tools. Along with Discover Lehigh Valley's social media channels, the online platforms communicate directly with consumers. Travelers can also call and stop into one of the many visitor centers for additional information.
About Lehigh Valley, Pa.
Set amid gentle hills and charming country sides, Lehigh Valley, Pa. is home to Allentown, Bethlehem, and Easton, as well as dozens of small towns and picturesque boroughs. The region is steeped in pre-Colonial, early American, and industrial history. Lehigh Valley has an impressive range of tourist attractions including nationally-recognized events like Musikfest, wineries and breweries, the Lehigh Valley Zoo, outdoor activities, world-class sporting events, 10 colleges and universities, and is home to America's favorite brands such as Crayola®, Peeps®, Mike & Ike®, Martin Guitars, and Mack Trucks. The region offers a diverse array of memorable things to do and plenty of dining options to fit every budget and taste. 
And, it's easy to get to and around. Lehigh Valley is located approximately 60 minutes north of Philadelphia and 90 minutes west of New York City by car.