Make this the best Musikfest® yet with these great deals
[caption id="attachment_38750" align="alignright" width="300"]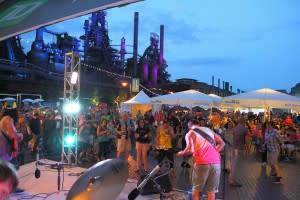 Make Musikfest 2014 the best yet![/caption]
LEHIGH VALLEY, Pa. (July 9, 2014) – Discover Lehigh Valley, the official Destination Marketing Organization for Lehigh and Northampton counties in eastern Pennsylvania, is making Musikfest®, Bethlehem, Pa.'s 10-day long music festival,  more fun than ever with multiple overnight packages.
Musikfest® will be held on both Bethlehem's historic north side and artistically flourishing south side from August 1 – 10. The ten days will be packed with headline music from bands such as The All American Rejects, Sheryl Crow and ZZ Top; great food including the famous Aw Shucks corn on the cob, and, now, great savings.
Musikfest® travel packages provide discounted rates on hotels, shuttle passes, food and drink tickets, and more. Enhance your excursion with outstanding accommodations and amenities.
Participating hotels include:
Homewood Suites by Hilton – Allentown/Bethlehem Airport, 2031 Avenue C, Bethlehem, PA 18018; 610-264-7500; bethlehemairport.homewoodsuites.com
Homewood Suites will set the tune for your Musikfest® adventure with a daily hot buffet breakfast, indoor pool, and sports court. This package includes two souvenir mugs, $20 in food tickets and two Musikfest® shuttle passes. Other discounts may not apply.
Hyatt Place Bethlehem, 45 West North St.,Bethlehem, PA 18018; 610-625-0500;  bethlehem.place.hyatt.com
Experience Bethlehem's new modern downtown hotel. Hyatt quality accommodations are within walking distance of the area's finest dining and shopping and right in the middle of Musikfest®. This package includes free garage parking, complimentary continental breakfast, 24-hour food service, lobby bar, indoor pool and fitness center. This package starts at $289. Package includes overnight stay in a King room, Hyatt Place hot skillet breakfast, parking, Wifi, two Musikfest® mugs, $20 in food and beverage tickets, and two shuttle passes. Based on availability.
About Discover Lehigh Valley
Discover Lehigh Valley is the designated destination marketing organization (DMO) of Lehigh and Northampton counties. Its mission is to promote and develop Lehigh Valley as a leisure and business travel destination. Created in 1984, Discover Lehigh Valley assists in promoting regional tourism, an industry that generates $1.857 billion in annual revenue and accounts for more than 22,000 jobs in Lehigh Valley. For more information on Discover Lehigh Valley and its activities or to request a Lehigh Valley Official Visitors Guide, call (800) MEET-HERE, or visit the official tourism website of Lehigh Valley at DiscoverLehighValley.com.
###
Media Contact:
George Wacker
610-882-9200
george@DiscoverLehighValley.com