Ginter to manage partner recruitment and retention, as well as selling additional marketing opportunities.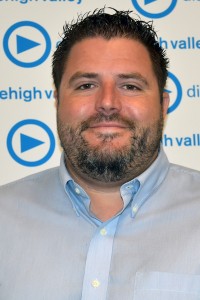 LEHIGH VALLEY, Pa. (June 28, 2016) – Discover Lehigh Valley® (DiscoverLehighValley.com), the area's designated destination marketing organization, has hired Dan Ginter as Partner Relations Manager. Ginter's responsibilities for Discover Lehigh Valley include recruiting and retaining partners for the organization, as well as serving as a liaison between all parties and selling additional marketing opportunities.
"I am excited to have Dan's sales knowledge to help grow our organization," said Kim Lilly, Executive Vice President for Discover Lehigh Valley. "His knowledge of the area is an asset and I am looking forward to him being a great ambassador for the region."
Ginter brings experience in customer relationship management, budgetary planning, and marketing strategy. Previously, he served as Advertising Account Executive with Tribune Morning Call Media Group, where he managed and worked a variety of local businesses to launch and execute strategic media marketing campaigns. Ginter also served as an Account Manager for Coca-Cola Bottling Company of the Lehigh Valley, where he was responsible for managing 120 accounts.
Ginter received his Bachelor of Science in Business Administration from Rider University in Lawrenceville, N.J.
About Discover Lehigh Valley
Discover Lehigh Valley is the designated destination marketing organization (DMO) of Lehigh and Northampton counties. Its mission is to promote and develop Lehigh Valley as a leisure and business travel destination. Created in 1984, Discover Lehigh Valley assists in promoting regional tourism, an industry that generates $1.976 billion in annual revenue and accounts for more than 23,000 jobs in Lehigh Valley. For more information on Discover Lehigh Valley and its activities or to request a Lehigh Valley Official Visitors Guide, call (800) MEET-HERE, or visit the official tourism website of Lehigh Valley at DiscoverLehighValley.com. ###