Organization was founded in 1984 as Lehigh Valley Convention and Visitors Bureau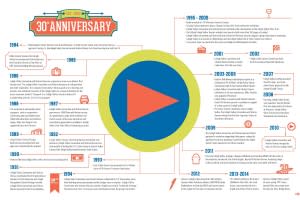 Discover Lehigh Valley 1984 - 2014 (Click to enlarge)[/caption]
Discover Lehigh Valley, the area's destination marketing organization (DMO), was born in 1984 when the Northampton County Tourism Council and the then Allentown / Lehigh County Tourist and Convention Bureau approved a merger to form the Lehigh Valley Convention and Visitors Bureau.
Since then, much about Lehigh Valley and Discover Lehigh Valley, has grown to attract more visitors who spend their hard-earned money to enjoy the region's attractions, events, restaurants, and more, helping the area's economic climate flourish.
With the advent of exciting attractions such as Wind Creek® Bethlehem and ArtsQuest™ Center at SteelStacks™, the newly remodeled Crayola Experience™ and dining scene in downtown Easton, and the just opened PPL Center in Allentown, Lehigh Valley will continue to be a wonderful place not only to live, but for others to visit and enjoy.
"During those 30 years, as a region we have grown almost twice as much as the industry has statewide," said Discover Lehigh Valley President, Michael Stershic. "The benefits of marketing as a region have been apparent as has our recognition as a tourism region of the state – separate and distinct from Philadelphia and its Countryside."
Some major events along Discover Lehigh Valley's timeline are as follows.
1985: Mike Stershic became the Lehigh Valley Visitors and Convention Bureau's first executive director at the first office opened in the ABE Terminal Building in Allentown.
1986: The Lehigh Valley Convention and Visitors Bureau's corporate mission was defined as "an independent nonprofit corporation. It is composed of members whose goals are to develop and promote the combined resources of Lehigh Valley as a travel destination for the area's economic benefit.
1988: Lehigh Valley Convention and Visitors Bureau gave away a 1988 Plymouth Horizon as part of a promotion to make local residents and visitors aware of the many attractions and recreational opportunities available in Lehigh Valley.
1989: Lehigh Valley Covered Bridge brochure was developed and tour signs were installed by the counties.
1991: Lehigh Valley Convention and Visitors Bureau coordinated the first promotional brochure for the Delaware and Lehigh Navigational Canal Heritage Corridor.
1995 - 2000: Lehigh Valley Convention and Visitors Bureau coordinated the development of the Lehigh Valley Wine Trail. The official Lehigh Valley Tourism website was launched with more than 100 pages of content.
2003 - 2006: Historic Bethlehem Partnership accepted as a Smithsonian PA Affiliate. Lehigh Valley Convention and Visitors Bureau's Board of Directors passed a resolution in support of a slots casino in Lehigh Valley.
2007: Lehigh Valley IronPigs unveiled their first logo.
2008: Lehigh Valley InSite, the area's tourism blog, was launched at www.LehighValleyInSite.com
2010: Lehigh Valley Convention and Visitors Bureau changed its name to Discover Lehigh Valley.
2011: Discover Lehigh Valley, through a Regional Marketing Partnership with the state of Pennsylvania, introduced Stay & Investigate: Haunts & Historic Horrors, featuring Lehigh Valley locations said to be haunted.
2012: Discover Lehigh Valley hosted the Mid-Atlantic Tourism Public Relations Alliance (MATPRA) Media Marketplace, welcoming DMOs and travel writers to the region for four days of education and fun.
2013 - 2014: Discover Lehigh Valley turned 30 years young. PPL Center opened. New bus wraps were unveiled on Trans Bridge Lines buses.
Discover Lehigh Valley officially celebrated its 30th birthday at its Annual Meeting held on Thursday, October 23 at Allentown Brew Works FIVE.
At the meeting, the following awards and recognitions were given out:
2014 Zenith Award (Meetings Market)
Presented To: The Association of Concert Bands "36th Annual Convention" and Pennsylvania Art Education Association (PAEA)
2014 Partnership Award
Presented To: Pennsylvania Shakespeare Festival
2014 Tourism Award
Presented To: PPL Center
2014 Board Member Plaques
Presented for their long-time, dedicated service as a member of the Board of Directors
Elizabeth Klebe, Air Products: 2011 - 2014
Robert DeSalvio, Sands® Bethlehem: 2009 - 2014
Tom Harp, Northampton County: 2011 - 2014
Kostas Kalogeropoulos, Meyer Jabara Hotels: 1984 - 1986 and 1994 - 2014
About Discover Lehigh Valley
Discover Lehigh Valley is the designated destination marketing organization (DMO) of Lehigh and Northampton counties. Its mission is to promote and develop Lehigh Valley as a leisure and business travel destination. Created in 1984, Discover Lehigh Valley assists in promoting regional tourism, an industry that generates $1.857 billion in annual revenue and accounts for more than 22,000 jobs in Lehigh Valley. For more information on Discover Lehigh Valley and its activities or to request a Lehigh Valley Official Visitors Guide, call (800) MEET-HERE, or visit the official tourism website of Lehigh Valley at DiscoverLehighValley.com.
###
Media Contact:
George Wacker
610-882-9200
george@DiscoverLehighValley.com
[gallery gallery_type="hybrid" ids="40798,40797"]