Mike Stershic honored for 14 years of service. 
LEHIGH VALLEY, PA (November 14, 2018) – Discover Lehigh Valley®, the destination marketing organization dedicated to promoting tourism in Pennsylvania's Lehigh and Northampton counties, celebrated a year of success during its Annual Meeting on Tuesday, November 13 at the Musikfest Cafe, located within the ArtsQuest™ Center at SteelStacks™. The night's events also celebrated the upcoming retirement of DLV president, Mike Stershic. 
Discover Lehigh Valley's annual report showcases growth in the organization across the board. Occupancy in Lehigh Valley averaged 71% in fiscal year 2017-18, with the revenue per available room sitting at an impressive $73.86. Room tax collections for the fiscal year showed that the two counties of Lehigh and Northampton generated over $2.6 million dollars. 
The 2017-18 fiscal year also marked the first full year of the newly developed DiscoverLehighValley.com, which saw an increase in visitors of 54.1% over the previous year. Through social media efforts, the organization has seen more than 6,200 photos tagged to Instagram using #LiftYourSpiritsDLV. On the media relations side, the team secured 444 media placements with total impressions reaching a staggering 18.6 million.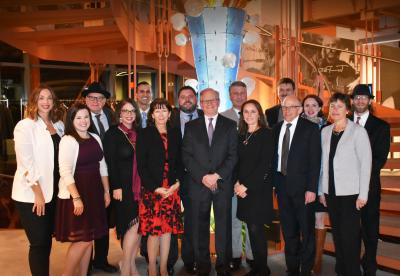 In the sports market, Discover Lehigh Valley Sports welcomed 41 events during the 2017-18 fiscal year, bringing an estimated 42,570 athletes to the region. In the meetings market, Discover Lehigh Valley® made connections with over 900 planners through 25 events, resulting in a total of 53 event leads. 
"Discover Lehigh Valley continues to be healthy, both financially and programmatically," said Mike Stershic, president of Discover Lehigh Valley. "Once again, we ended the year in the black, providing an excellent financial base for the future. Leisure travel to Lehigh Valley is on the rise and is creating demand on weekends in our hotels. Overall, weekend occupancy is 9% higher than weekday and revenue per available room is 20% higher on the weekend."
During the night's celebration, Discover Lehigh Valley® presented three awards highlighting local partnerships. The Zenith Award, presented to a meeting, convention, or group that has made a significant economic impact on the region, was award to the Mack Global Dealers Summit 2017. 
Vault 634 was awarded the 2018 Discover Lehigh Valley Tourism Award. The Tourism Award is awarded annually to a local business/initiative that joined our Lehigh Valley tourism community in the past year, recognizing new development and product, and aiding to the brand of Lehigh Valley. 
The Partnership Award recognizes a partner that consistently goes above and beyond to promote and protect Lehigh Valley's brand. They are loyal and dedicated to working with us, in partnership, to support tourism and drive visitor engagement.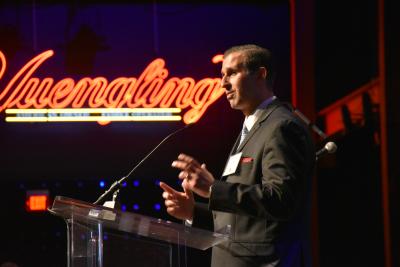 The event also celebrated the upcoming retirement of Mike Stershic, president of Discover Lehigh Valley. Stershic has led the organization for 14 years and will be retiring at the end of 2018. Alex Michaels has been selected as his successor. 
"As a native from Lehigh Valley, I'm excited to return at a time when there is so much opportunity in the tourism industry to showcase the region and to generate additional dollars for our economy," said Alex Michaels, incoming president of Discover Lehigh Valley. "The work of Discover Lehigh Valley doesn't just bring visitors to our region, it helps to make Lehigh Valley a more vital and better place to live and do business."
To obtain a copy of this year's annual report, please visit DiscoverLehighValley.com/about-dlv/. Photos from the evening's event are available here. 
About Discover Lehigh Valley
Established in 1984, Discover Lehigh Valley® makes Lehigh and Northampton counties a premier destination through marketing and image building that increases the number of visitors, the number of nights they stay and the number of things they do in the region.

Discover Lehigh Valley's official visitor website and blog, DiscoverLehighValley.com and LehighValleyInSite.com keeps locals and visitors abreast of all things happening in region. Visitors can explore things to do, upcoming events, themed itineraries and hotel packages. Compelling photography and videos, brochures and detailed visitor information make the sites effective trip-planning tools. Along with Discover Lehigh Valley's social media channels, the online platforms communicate directly with consumers. Travelers can also call and stop into one of the many visitor centers for additional information.

About Lehigh Valley, Pa.
Set amid gentle hills and charming country sides, Lehigh Valley, Pa. is home to Allentown, Bethlehem and Easton, as well as dozens of small towns and picturesque boroughs. 
The region is steeped in pre-Colonial, Early American and industrial history. Lehigh Valley has an impressive range of tourist attractions including nationally-recognized events like Musikfest, wineries and breweries, the Lehigh Valley Zoo, outdoor activities, world-class sporting events, 10 colleges and universities, and is home to America's favorite brands such as Crayola®, Peeps®, Mike & Ike®, Martin Guitars and Mack Trucks. The region offers a diverse array of memorable things to do and plenty of dining options to fit every budget and taste. 

And, it's easy to get to and around. Lehigh Valley is located approximately 60 minutes north of Philadelphia and 90 minutes west of New York City by car.
###