Serrao advances to Scripps National Spelling Bee in Washington, D.C.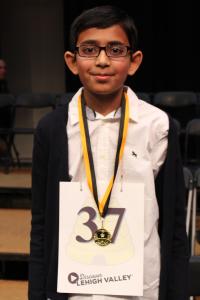 Lehigh Valley, Pa. (March 23, 2018) - Months of studying paid off for Christopher Serrao, the winner of the third annual Discover Lehigh Valley Regional Spelling Bee, held Wednesday evening at Northampton Community College's Lipkin Theatre. Serrao, a student at Readington Middle School in Hunterdon County, was also crowned champion of the 2017 Regional Bee.
Forty-five qualifying students from across six counties (Bucks, Lehigh, Northampton, and Montgomery in Pennsylvania and Hunterdon and Warren in New Jersey) competed in 14 rounds of intense competition. Words ranged from bagel to eland.
Serrao will now move on to the Scripps National Spelling Bee in Washington D.C.
This year's pool of contestants was the largest yet, including nearly 29,000 students in grades 4 through 8 from more than 100 schools across the region.
"We're thrilled to be able to support the educational feats of these students," said Michael Kuzy, Director of Sports Tourism for Discover Lehigh Valley. "This year, we were excited to be to expand coverage of the Regional Spelling Bee to Bucks and Montgomery counties, giving even more students the chance to vie for a spot in the National Bee."
The 2018 Regional Spelling Bee was coordinated by Jennifer Kelly. Denise L. Smith of the State Theatre for the Center Arts served as pronouncer. Danielle Serrao, former Regional Spelling Bee Champion, assisted throughout the evening.
The evening's events were judged by Christopher P. Hoenscheid of George Wolf and Moore Elementary Schools in the Northampton Area School District and Jody Higgins of the Memorial School in Washington.
About Discover Lehigh Valley
Established in 1984, Discover Lehigh Valley® makes Lehigh and Northampton counties a premier destination through marketing and image building that increases the number of visitors, the number of nights they stay, and the number of things they do in the region.
Discover Lehigh Valley's official visitor website and blog, DiscoverLehighValley.com and LehighValleyInSite.com keeps locals and visitors abreast of all things happening in the region. Visitors can explore things to do, upcoming events, themed itineraries, and hotel packages. Compelling photography and videos, brochures, and detailed visitor information make the sites effective trip-planning tools. Along with Discover Lehigh Valley's social media channels, the online platforms communicate directly with consumers. Travelers can also call and stop into one of the many visitor centers for additional information.