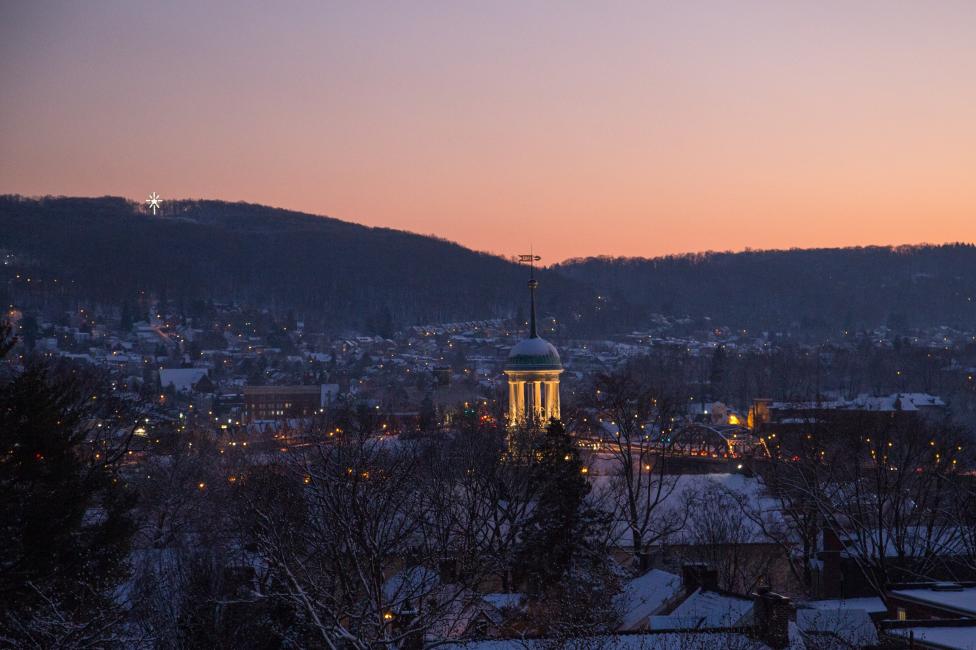 A premier holiday destination, Discover Lehigh Valley shares favorite Christmas City traditions and events. 
LEHIGH VALLEY, Pa., November 2, 2018 – As festive and cheerful as Santa's North Pole workshop, Lehigh Valley's Christmas City exudes holiday spirit from the moment you arrive. While families start preparing for the season, Discover Lehigh Valley®, the destination marketing organization dedicated to promoting tourism in Pennsylvania's Lehigh and Northampton counties, shares a sneak peek of the magic that visitors can enjoy while discovering Bethlehem, also known as the Christmas City, during the holiday season. 
"For over 275 years, Bethlehem has been the center of holiday festivities thanks to its establishment on Christmas Eve and locals later coining it the Christmas City. From Main Street lined with twinkling lights and historic buildings decorated with charming candles to aisles of handmade gifts at Christkindlmarkt and stunningly decorated trees at Hotel Bethlehem, Christmas City truly embodies the holidays and is a site to be seen," said Alicia Quinn, strategic brand manager for Discover Lehigh Valley. "Plus, if you love this time of year as much as I do, the holiday spirit goes well beyond Bethlehem. Throughout Lehigh Valley, there are plenty of joyful festivities for visitors to enjoy, including some of the most spectacular light displays."
Here is a behind-the-scenes peek of the Christmas City, courtesy of Discover Lehigh Valley:
Along with Bethlehem's holiday festivities, Lehigh Valley is full of holiday spirit. A few other must-see attractions in the region include the Winter Light Spectacular at Lehigh Valley Zoo, featuring over 1.1 million twinkling lights, delicious hot chocolate and cozy fire pits, as well as Koziar's Christmas Village, which has been wowing families for nearly 70 years as they witness over a million holiday lights setting the countryside aglow. 
Thinking ahead to New Year's and what to do with the kids? Families must experience PEEPSFEST®, a two-day family-friendly celebration featuring a 4-feet, 9-inches tall, 400-pound, giant yellow, light-up PEEP and plenty of the sweet treat to go around.
For more Lehigh Valley holiday getaway recommendations, visit LehighValleyHolidays.com. Follow @LehighValleyPa on Facebook, Instagram, and Twitter.
About Discover Lehigh Valley
Established in 1984, Discover Lehigh Valley® makes Lehigh and Northampton counties a premier destination through marketing and image building that increases the number of visitors, the number of nights they stay and the number of things they do in the region.
Discover Lehigh Valley's official visitor website and blog, DiscoverLehighValley.com and LehighValleyInSite.com keeps locals and visitors abreast of all things happening in region. Visitors can explore things to do, upcoming events, themed itineraries and hotel packages. Compelling photography and videos, brochures and detailed visitor information make the sites effective trip-planning tools. Along with Discover Lehigh Valley's social media channels, the online platforms communicate directly with consumers. Travelers can also call and stop into one of the many visitor centers for additional information.
About Lehigh Valley, Pa.
Set amid gentle hills and charming country sides, Lehigh Valley, Pa. is home to Allentown, Bethlehem and Easton, as well as dozens of small towns and picturesque boroughs. 
The region is steeped in pre-Colonial, Early American and industrial history. Lehigh Valley has an impressive range of tourist attractions including nationally-recognized events like Musikfest, wineries and breweries, the Lehigh Valley Zoo, outdoor activities, world-class sporting events, 10 colleges and universities, and is home to America's favorite brands such as Crayola®, Peeps®, Mike & Ike®, Martin Guitars and Mack Trucks. The region offers a diverse array of memorable things to do and plenty of dining options to fit every budget and taste. 
And, it's easy to get to and around. Lehigh Valley is located approximately 60 minutes north of Philadelphia and 90 minutes west of New York City by car.
###