For 89-year-old Gus Trapasso, it's a birthday to remember!
[caption id="attachment_40468" align="alignright" width="301"]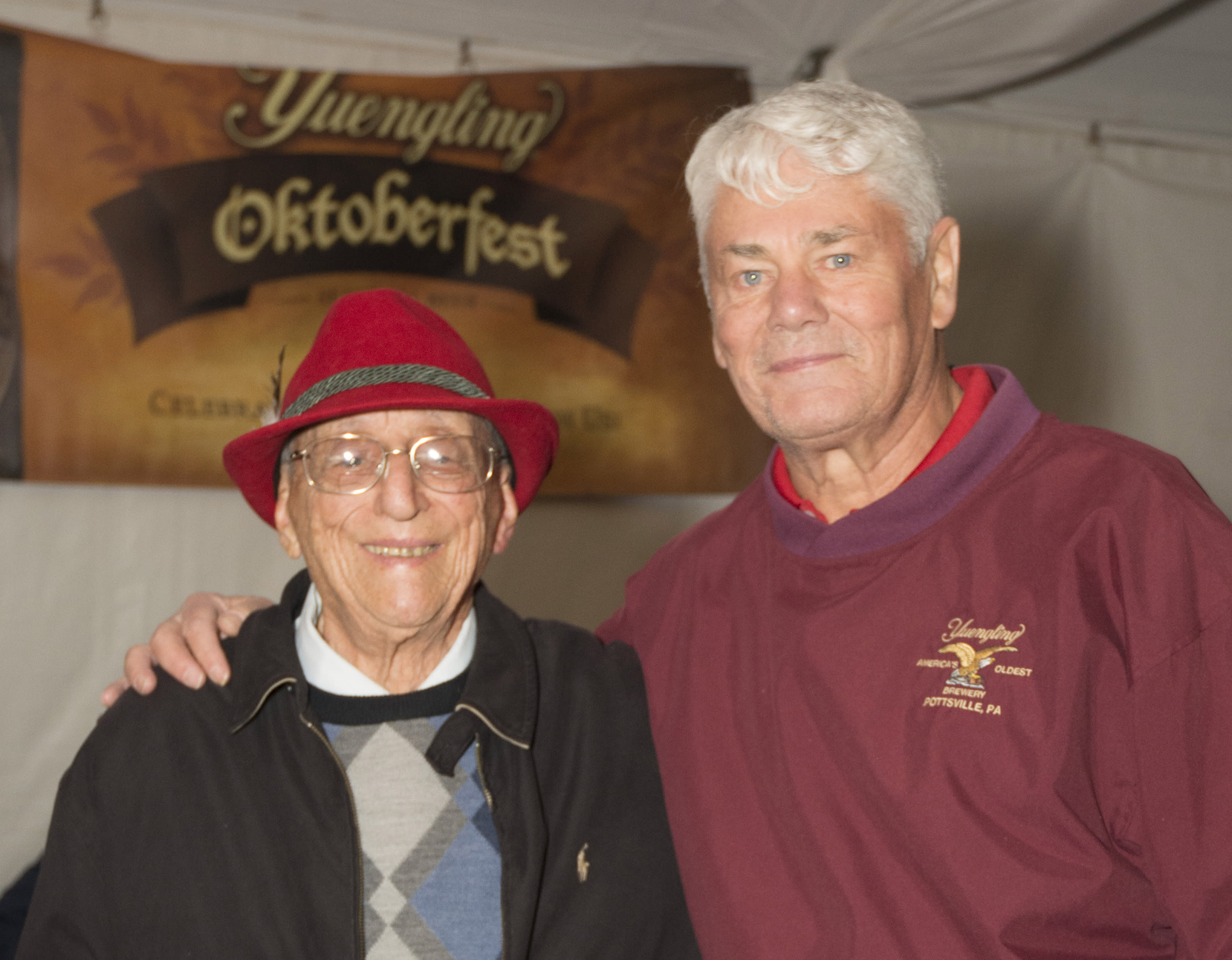 Mr. Oktoberfest, Gus Trapasso, with Dick Yuengling[/caption]
For 89-year-old Gus Trapasso, it's a birthday to remember!  During his inaugural trip to Oktoberfest presented by Yuengling today, Oct. 4, the White Plain, N.Y. resident was named the winner of the first-ever Mr. Oktoberfest competition, while at the same time fulfilling a lifelong dream to meet D.G. Yuengling & Son President Dick Yuengling, something he was able to do just hours before his 90th birthday begins (Oct. 5)!
A retired U.S. Postal Service employee, Trapasso was one of 20 people selected to compete in Discover Lehigh Valley's Mr. and Ms. Oktoberfest contest this fall as part of Oktoberfest presented by Yuengling. Through public online voting, Trapasso was chosen as one of competition's finalists, which included an invitation to be part of the official Keg Tap at Oktoberfest Oct. 4, 7:30 p.m.  Trapasso also had the opportunity to meet and have his photo taken with Yuengling, president of the company that makes his favorite beer, Yuengling Lager.
A Veteran of the U.S Armed Forces, Trapasso served in the Army from 1944-'46 including during World War II. He retired from the Postal Service decades ago, but still serves as an active member of the White Plains Volunteer Fire Department.
In addition to crowning Trapasso as Mr. Oktoberfest, Carly Comando of Bethlehem was named Ms. Oktoberfest 2014. Runners-up in the Ms. Oktoberfest competition were Michelle Baran of Boyertown and Samantha Koons of Breinigsville, while runners-up in the Mr. Oktoberfest competition were Tom Patterson of Bethlehem and Mike Wescoe of Breinigsville.
The Mr. and Ms. Oktoberfest contest was presented by Discover Lehigh Valley, the destination marketing organization (DMO) of Lehigh and Northampton counties whose mission is to promote and develop the Lehigh Valley as a leisure and business travel destination. In addition to their experience at Oktoberfest, both winners also received a $100 ArtsQuest gift card, as well as assorted prizes from Discover Lehigh Valley's Lehigh Valley Ale Trail and ArtsQuest.
For more information on Discover Lehigh Valley, visit www.DiscoverLehighValley.com.
-30-
Media Contact
George Wacker
610-882-9200
George@DiscoverLehighValley.com