Newly redesigned guide showcases area attractions, restaurants, events and more.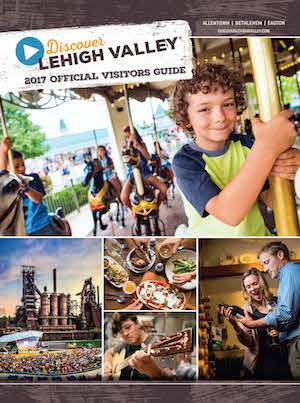 LEHIGH VALLEY, Pa., January 18, 2017 – Discover Lehigh Valley® has unveiled its 2017 Official Visitors Guide. Packed with inspirational stories, must-do lists, coupons, savings and more, this guide is the perfect resource for visitors and locals alike.
"The 2017 Official Visitors Guide is a great research tool for anyone planning to experience what Lehigh Valley has to offer," said Kim Lilly, executive vice president of Discover Lehigh Valley®. "Visitors to our region can save time by using this guide to plan their trip here, leaving them with more time to make memories while exploring and discovering that Lehigh Valley is a great place to reconnect with friends, family and culture."
This year's guide, designed and published by Miles Partnership, introduces a refreshed vision for editorial content. Within the 72 pages of this edition, you'll find profiles of the three major cities and tips from locals on must-see hidden gems. Also highlighted are neighboring towns that take regional charm above and beyond including Macungie, Northampton, Hellertown, Catasauqua, Nazareth and more.
Additional editorial features include family-friendly activities and attractions, holidays in Lehigh Valley, must-see stops for foodies, outdoor adventures, arts & culture and so much more. Tucked throughout the pages, you'll find engaging imagery of Lehigh Valley, captured by local photographers.
The newly redesigned guide includes listing pages showcasing places to play, dine, shop and tools to help you plan your visit. Maps of the region can also be found within the guide, noting locations of the Lehigh Valley Wine Trail members, covered bridges and the Delaware and Lehigh National Heritage Corridor.
Keystone sponsors of Discover Lehigh Valley are highlighted throughout the guide and include Air Products & Chemicals Inc., Alvin H. Butz, Inc., C.F. Martin & Co. Inc., Crayola,® Inc., Cross America Partners, Dorney Park & Wildwater Kingdom, Just Born Inc., Lehigh Valley Health Network, Lehigh Valley Mall, PPL Corporation, Sands® Bethlehem, St. Luke's University Health Network and the Waterfront.
The 2017 Discover Lehigh Valley® Official Visitors Guide is complimentary and can be requested by calling 610-882-9200 or 1-800-MEET-HERE, or by visiting DiscoverLehighValley.com. A downloadable PDF version is available on the site. Guides are also distributed at more than 70 brochure racks located in hotels, visitors centers and at select attractions throughout the region.
About Discover Lehigh Valley
Established in 1984, Discover Lehigh Valley® makes Lehigh and Northampton counties a premier destination through marketing and image building that increases the number of visitors, the number of nights they stay and the number of things they do in the region.
Discover Lehigh Valley's official website and blog, DiscoverLehighValley.com and LehighValleyInSite.com, keeps locals and visitors abreast of all things happening in the region. Visitors can explore things to do, upcoming events, themed itineraries and hotel packages. Compelling photography and videos, brochures and detailed visitor information make the sites effective trip-planning tools. Along with Discover Lehigh Valley's social media channels, the online platforms communicate directly with consumers. Travelers can also call and stop into one of the many visitor centers for additional information.