Guide to area attractions, restaurants, hotels, and events, gets even more exciting.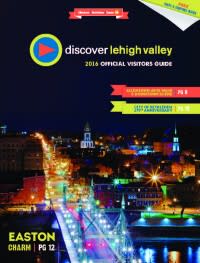 LEHIGH VALLEY, Pa. (February 9, 2016) – Discover Lehigh Valley has unveiled the 2016 Official Visitors Guide. Packed with information, coupons, savings, and more, this guide is the perfect resource for visitors and locals alike.
This year's guide, designed and published by Lehigh Mining & Navigation, includes a feature on Easton's charm in an interview with Dawn Ferrante, Easton's Economic and Community Development Director. Other feature stories include highlights of the changes in downtown Allentown and the 275th anniversary of the founding of Bethlehem.
The 2016 Discover Lehigh Valley Official Visitors Guide showcases statistics on Lehigh Valley at a glance, including distance to major cities throughout the mid-Atlantic, average temperatures, transportation information, and more.
The newly redesigned guide also features sample itineraries for those looking for fun, including a couples' getaway, guys-only adventures, a just-the-girls weekend, and family fun. Travel tips and fun facts are interspersed throughout the pages of business listings to give visitors an inside look at all things Lehigh Valley.
Discover Lehigh Valley also continues its Stay & Save package programs, giving visitors the chance to book overnight accommodations in tandem with major area attractions. Current Stay & Save packages include Stay & Scream with Dorney Park & Wildwater Kingdom, Stay & Game with Sands® Bethlehem, Stay & Ski with Blue Mountain and Bear Creek Mountain Resort, and Stay & Create with the Crayola Experience.™
Other sections include an events calendar, coupons, and maps, as well as listings for local businesses under the categories of Play, Travel Support, Stay, Shop, Eat, and Discover. Locations that offer meeting space or are group tour friendly are denoted with special icons.
Discover Lehigh Valley corporate sponsors, noted in brackets throughout the guide, include Air Products & Chemicals, Inc., Alvin H. Butz, Inc. C. F. Martin & Co., City Center Lehigh Valley, Coordinated Health, Crayola, Inc., Cross America Partners, Dorney Park & Wildwater Kingdom, Just Born, Lehigh Valley Health Network, Lehigh Valley Mall, The Morning Call, National Penn Bank, PPL Corporation, Sands® Bethlehem, St. Luke's University Health Network, and the Waterfront.
The 2016 Discover Lehigh Valley Official Visitors Guide is complimentary and can be requested by calling 610-882-9200 or 1-800-MEET-HERE or visiting DiscoverLehighValley.com. A downloadable PDF version is available on the site. Guides are also distributed at more than 70 brochure racks located in hotels, visitors centers, and at select attractions throughout the region.
About Discover Lehigh Valley
Discover Lehigh Valley is the designated destination marketing organization (DMO) of Lehigh and Northampton counties. Its mission is to promote and develop Lehigh Valley as a leisure and business travel destination. Created in 1984, Discover Lehigh Valley assists in promoting regional tourism, an industry that generates $1.906 billion in annual revenue and accounts for more than 22,000 jobs in Lehigh Valley. For more information on Discover Lehigh Valley and its activities or to request a Lehigh Valley Official Visitors Guide, call (800) MEET-HERE, or visit the official tourism website of Lehigh Valley at DiscoverLehighValley.com.
###
Media Contact: Kaitie Burger 610-882-9200 kaitie@DiscoverLehighValley.com